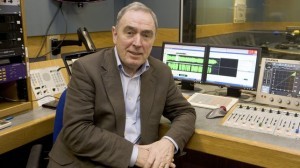 RTÉ broadcaster Colm Murray has died following a long illness. He was 61.
Colm, who was diagnosed with motor neurone disease three years ago, is survived by his wife, Anne, daughters Kate and Patricia and his sister, Mary. His sister Cathy passed away earlier this year.
Colm was a regular visitor to County Donegal, particularly to Ardara, and was often seen playing the golf courses of the county.
He was a familiar face in particular at the Nesbitt Arms Hotel.
NUJ Irish Secretary Séamus Dooley paid tribute to "a remarkable figure in Irish journalism".
"In a profession characterised by professional rivalry and jealousy Colm had no enemies.
"He was admired for his wit, his humour and his generosity of spirit. His stoical acceptance of his illness has served as a powerful inspiration and it is a cruel irony that someone who loved life with such passion should have been struck with such a debilitating illness."
Tags: