AN estimated 30,000 Donegal fans are set to turn Croke Park green and gold on Sunday.
With Jim McGuinness's side set to face Mayo in a repeat of last year's All-Ireland Final, supporters from across Ireland and beyond have been snapping up all available tickets.
Last year's footballer of the year Karl Lacey returns to the starting line-up for this All-Ireland Quarter Final match with Mark McHugh expected to take a place on the bench.
Cavan take on Kerry at 2pm with fans from the Ulster county set to travel in numbers to the game.
But Donegal fans will outnumber those from other counties at GAA headquarters.
"I think we are heading for a repeat of last year's quarter final," said Grace Boyle from Club Tir Chonaill.
"Between ticket sales through clubs and through shops and other outlets, we think there will be around 30,000 people Donegal fans heading for Dublin this weekend.
"Last year Donegal fans inside Croke Park at this stage of the competition created an incredible atmosphere and we're hoping for more of the same this Sunday."
Last year families took advantage of the occasion, knowing tickets for later rounds – if Donegal progressed – would be harder to get.
Fans who can't make it to the game can watch it on TV3 – with Donegal people around the globe hoping to get coverage wherever they are.
Meanwhile Donegal fans are being asked to put their shirts on their team.
Sponsorship cards are being drafted out across the county in a bid to raise funds for the senior team.
The lines are just €3 each and there are 50 lines on each card.
And the good news is that for just €3 you have a chance of winning a Donegal jersey.
Needless to say we all hope that we're still wearing them as we travel in numbers to Croke Park in September.
Businesses and clubs are asked to put a card at their place of work and to nominate someone to look after it.
And the good news is that whoever looks after the card and returns the sponsorship money will also get a FREE Donegal jersey for their trouble.
It's a win win situation all around – hopefully both like Donegal's quarter and semi-final appearances at Croker.
Meanwhile the Official Donegal Facebook Page (not sure who runs that!) reckons Pope Francis is getting behind Jim's boys.
They posted this picture last night….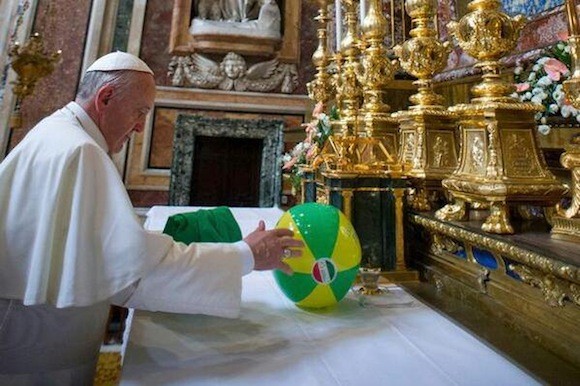 Tags: