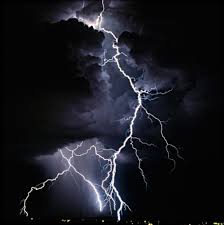 DONEGAL was hit by an astonishing lightning storm on Thursday night.
The night skies over north and west Donegal were lit up with incredible dagger lightning strikes.
Huge downpours accompanied the thunder storms.
Muckish "lit up like a Christmas tree" according to one reader in Falcarragh.
"It was just incredible."
The sky could be seen lighting up from as far away as Bridgend.
Gortahork was amongst the best places to see the lightning; videos of the event are on our front page if you want to see them.
Electricity was also cut in several areas, including in Ballybofey.
Friday will see showers and some sunshine – almost anywhere – says Met Eireann. It will also become blustery over Donegal in the evening.
Send your pix/videos to info@donegaldaily.com