"It's not whether you get knocked down; it's whether you get up." – Vince Lombardi
People who love sport recognise that sport is the epitome of hard work, sacrifice and dedication, and that even the most naturally-gifted of athletes have to work as hard as anyone else to reach the pinnacle of their careers.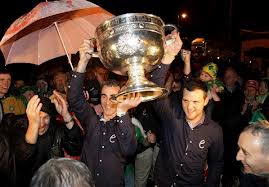 It's easy to see why successful athletes and managers are seen as motivational figures to aspire and look up to.
In Donegal, Jim McGuinness and his squad of players have shown the people of this county that with the correct attitude, focus, desire, dedication and hard work you can achieve anything you want.
They're motivational icons for grown men and women and heroes to a generation of young children who run around the back garden pretending to be Michael Murphy scoring a crucial goal in an All-Ireland final in Croke Park.
It has been well documented that Donegal GAA was at rock bottom when Jim McGuinness took over in 2010.
The job was a poisoned chalice and nobody wanted to look after a team that was going nowhere.
McGuinness had applied for the job twice previously without success but he never gave up, he saw something in this group of players and knew they could be successful.
The remarkable turnaround in Donegal's fortunes has made McGuinness a household name all over Ireland.
It has been one of the great sports stories in Ireland of the last decade or more, taking over a team of loveable losers that had been ridiculed and written off as many times as we'd heard that the England soccer team would win a major competition.
In a short period of time he turned them into double Ulster Champions and All-Ireland champions.
The manner in which they did it was also remarkable.
There has been a lot written and said since Sunday's crushing defeat to Mayo about Donegal and McGuinness.
Many believe he will walk away but given the type of character he is it would be very surprising to see him walk away on the back of such a defeat.
This group of players are winners, they're not the loveable losers they once were, they're not the nice Donegal lads that play nice football and are nice to play against.
They've tasted success and are greedy for more, I don't believe the theory that some of the  players will be happy with their lot and opt out due to the commitments demanded at inter-county level.
Football careers are short and every player will want to play and win as much as he can at the highest level.
Donegal like so many other All-Ireland champions before them failed to hit the heights of the previous year.
They were beaten by a hungrier side and Mayo deserved their win, but it is premature to write the obituary on this team and this manager.
This manager and squad of players have given the people of Donegal some great days over the last few years and the same group will continue to do so over the next few years.
They have restored pride back in our county and they deserve our support now more than they ever did.
Nobody will be hurting more than that group of players and Jim McGuinness.
The demands of the previous two years meant they have came up short in their attempts to recapture the Anglo Celt and the Sam Maguire in 2013.
Jim never gave up on getting the job despite getting rejected twice, he also declined offers from other counties such was his passion for the Donegal job.
So let's not give up on him and his squad – they have given us too much over the past 3 years and as people have rightly pointed out they owe us nothing.
Donegal and Jim McGuinness will be back in 2014 bigger and better than ever, he arrived with a bang he's not going to go out on a whimper.
Donegal ABU!!!
Tags: