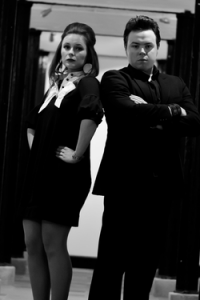 HE may have gone to the great big country festival in the sky, but Johnny Cash fans can get a taste of the man and his music when a top-rated tribute act comes to Harvey's Point Hotel on Friday, August 30.
The JP MAC – Johnny Cash Tribute Show has been hailed the greatest and most exciting Johnny Cash Tribute in the UK and Ireland by fans and club owners alike.
Now with a fantastic live and energetic six piece band, including the award winning JP Mac as Johnny Cash, who's baritone voice and tone is scarily uncanny to the Man in Black's himself.
JP is then accompanied by his sister Caroline Parker, who takes on the role as June Carter with her larger than life onstage presence and fantastic voice.
The combination of the two and their fantastic band are wowing audiences all over. They have been playing in clubs, festivals, cabarets, hotels and theatres throughout the north and the south of Ireland and the UK for the past 5 years, while also having appeared on various radio slots nationally and internationally.
An official accolade of support was also made from Johnny Cash's very own Drummer of near 40 years W.S (Fluke) Holland, who regarded JP's tracks as 'quite amazing' on his radio show in Tennessee just last year.
The show is currently playing to sell out audiences all over the UK and Ireland including Belfast's Crumlin Road Gaol! If you go along to the shows you will hear all the classics, 'Folsom Prison Blues', 'Get Rhythm', ' Walk the Line', 'Hurt' and of course the duo hit 'Jackson' which the pair have just recorded and is currently getting airplay throughout Ireland.
If you're a real Johnny Cash and June Carter fan, you cannot afford to miss this spectacular show.
For further details please call 074 9722208 or email stay@harveyspoint.com. Tickets are priced at €12.
Tags: