Former All-Ireland winning manager Brian McEniff believes the pain of Sunday's crushing 16 point defeat to Mayo will be a crucial factor in Jim McGuinness continuing his tenure as Donegal Senior football manager.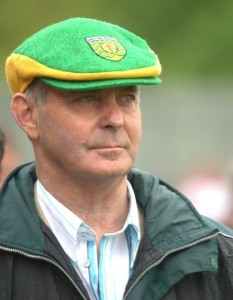 The Bundoran man who led Donegal to their historic first ever All-Ireland crown in 1992 believes that McGuinness will have taken Sunday's defeat very personally and that he will not want to walk away after such a defeat.
McEniff said,
"I'd like him to stay, and I think I speak for everyone in the county when I say that."
"I really believe the nature of the defeat will be a crucial factor in him hopefully deciding to stay on, I've a feeling he will stay on because he will not want to end his unbelievably successful tenure as manager on a downer like Sunday."
"He will take the defeat personally and it's an awful feeling when you are the manager of a team that is successful and then it is all wiped away from you and there is no doubt about it he'll take it hard."
McEniff believes McGuinness has the ability to reignite the squad just like he did in 2010 turning them from perennial losers to All-Ireland champions within two years.
"Jim has the capacity to reignite the boys, there is 6 months from now until the national league and we're back in Division two so that could give him a chance to blood new players and give some of the senior players a good rest early on in the season."
"He is a wonderful manager and these players are a fantastic bunch, I've no doubt we'll back better and stronger next year."
McGuinness has said he won't be rushed in to making a decision on his future with him expected to announce whether he will stay on or not at the next County board meeting.
Tags: