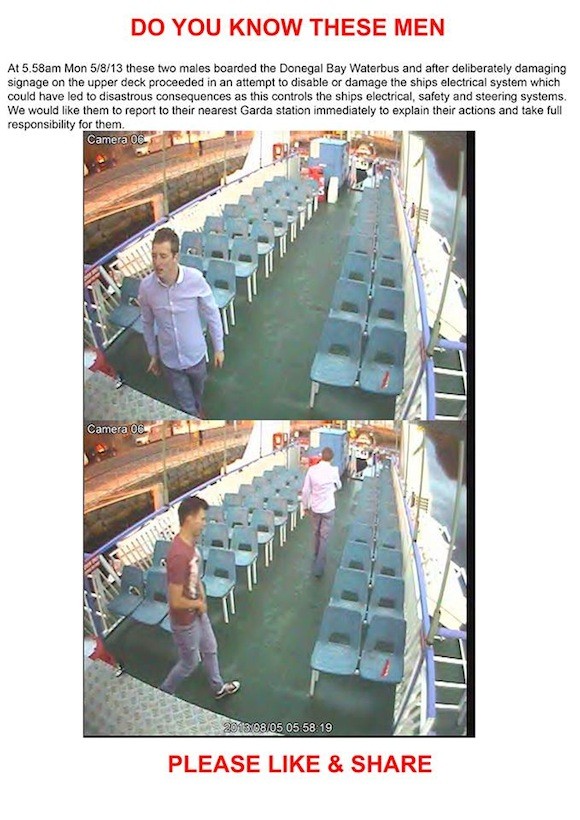 GARDAI are following a definite line of inquiry in their investigation into vandalism on the Donegal Bay Waterbus, Donegal Daily has learned.
Officers have now positively identified two men caught on CCTV as they tampered with the boat's expensive electrical system around 6am on Monday.
Sean Quinn, the chief executive of the tourism venture, published pictures and the footage yesterday after giving the suspects two days to hand themselves over to Gardai and apologise.
We have learned that both suspects are from Donegal and have been identified by Gardai.
"The footage from the CCTV cameras was excellent," said one Garda source.
"We are now following a definite line of inquiry in this case."
It's understood arrests in the case could come in the next few days. The men have come forward to the boat's owners who have demanded compensation for the damage which was done.
Earlier Mr Quinn had defended his decision to publish the pictures and criticised trolls who posted comments attacking the move.
"Would you find it amusing if all of a sudden the steering failed as your parents, brothers sisters etc drove down the road… think about that. We are sure you wouldn't be tweeting or messaging in the same light hearted 'comical' way," he said.
"We would ask those who suggested that this was a publicity stunt to please 'Unlike' our page straight away. The Crew here do not appreciate your presence," he added.
Tags: