The Swilly in front of Rathmullan was a swirl of colour and movement on the Bank Holiday Monday as dinghies, Class 1 and Class 2 keel boats took to the water in exciting races all around.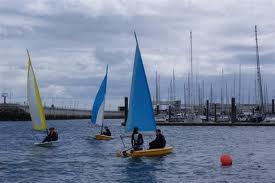 Ten dinghies took part in the three dinghy races, which were held over an Olympic-style triangular course to the south of the pier and ran for almost 3 hours.
First prize was won by David Hogan and Pauline Gallagher in the Bahia, second place was Dan Little in his laser and third place was Eithne Boyle in a Pico. Congratulations go to all the competitors for the skill and enthusiasm they showed in sometimes gusty conditions.
Club members also enjoyed an overnight camping trip to Mullaghmore Sailing club on the last Saturday in July, which fortunately was one of the hottest days of the summer so far.
Mullaghmore were wonderfully hospitable hosts, providing refreshments and a barbeque for the visitors in their well-equipped club house.
On Sunday morning more than forty boats took to the water, despite difficult wind conditions, for a friendly regatta between the two clubs. RWSC would like to express their thanks to Mullaghmore Sailing Club for a very enjoyable weekend.
The club's busy summer schedule continues as usual with Sunday morning open sails, Thursday evening adult sails, and junior racing sessions on Friday evenings.
Sea kayaking is also on offer, with sessions on Sunday mornings and Thursday evenings. Anyone ( adult or child) who would like to get a flavour of what sailing offers can avail of the taster sessions run by the skilled instructors of Rathmullan Sailing School (to book contact the school mobile number 086 0303607; the website is rathmullansailing.com). For more information on the club and the activities planned for the coming weeks, check out our web site www.rathmullansailingclub.com.
Tags: