The final series of games in this season's Airtricity League First Division gets underway on Friday night with Finn Harp hoping to get back into the promotion shake-up when they host Waterford United at Finn Park (kick-off 8pm).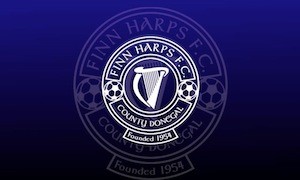 Harps boss Peter Hutton accepts it will probably take a victory on Friday to remain in with a chance of finishing in one of the play-off spots come the end of the season. Waterford though pose a formidable task.
"I suppose a lot of people will look at it like that and yes if we really wish to claw back those ahead of us, like Waterford, then of course we really need the three points," said Hutton about having to win Friday's game to stay in contention.
"If we play to our true potential then we have a great chance. Waterford have turned the corner themselves both on and off the field and have even found the resources to sign some quality players in Connor Meade, Philip Drohan and young Chindea from St Pats and Danny Furlong from Cork.
"I believe they have built up a good bit of momentum at the minute and I'm sure they still fancy their chances to go up automatically so we are fully aware it will be a difficult game. I'm personally really looking forward to this game and I'm sure the boys are too, it's these types of games you work towards all season and I only hope that there is a big crowd there to support the team."
Harps go into the game having won both of their last two home games and keeping clean sheets in the process. The most recent of these was last Friday's 2-0 victory over Salthill Devon.
"I thought we thoroughly deserved the win and to be honest was a bit disappointed we didn't score a few more to help improve our goal difference deficit but I suppose getting the 3 points was the most important thing," commented Hutton on the Salthill game.
"We dominated the game for large spells but still afforded them some chances in which Ciaran Gallagher did well but second half I thought we were a lot more professional in our approach and saw out the game comfortably."
So, after a dismal run of results in June and early July, does Hutton feel his side have now turned the corner.
"I certainly hope so, keeping a clean sheet is critical in this league so I was delighted we did so again. The group continue to work hard in training and realise that there is still a lot to play for this season, so the two home wins have definitely helped the boys' confidence levels and we look forward to the challenge of Waterford this week."
Harps will have to plan without Mark Forker who scored both goals last Friday as he sits out the game through suspension.
Tommy McMonagle and Michael Funston both had to leave the field early last week and both are doubtful for Friday. Damien McNulty remains out
This will be the fourth meeting of the two sides this season. Waterford have had the better of the other three fixtures – winning two, while the opening day fixture ended in a 1-1 draw at the RSC.
~~~~~~~~~~~~~~~~~~~~~~~~~~~~~~~~~~~~~~~~~~~~~~~~~~~~~~~~~~~~~~~
TEAM NEWS
Suspended: Mark Forker.
Doubtful: Tommy McMonagle (groin), Michael Funston (hamstring).
Injured: Damien McNulty (foot)
Form Guide (last six league games)
Finn Harps: D-D-L-W-L-W (8 pts)
Waterford United: L-D-W-D-W-W (11 pts)
~~~~~~~~~~~~~~~~~~~~~~~~~~~~~~~~~~~~~~~~~~~~~~~~~~~~~~~~~~~~~~~
Last six home games against Waterford United
03-Oct-09 – Finn Harps 1-1 Waterford United (First Division)
16-Jul-10 – Finn Harps 1-1 Waterford United (First Division)
11-Jun-11 – Finn Harps 1-0 Waterford United (First Division)
18-May-12 – Finn Harps 0-1 Waterford United (First Division)
29-Sep-12 – Finn Harps 1-2 Waterford United (First Division)
26-Apr-13 – Finn Harps 0-1 Waterford United (First Division)
~~~~~~~~~~~~~~~~~~~~~~~~~~~~~~~~~~~~~~~~~~~~~~~~~~~~~~~~~~~~~~~
Finn Harps Goalscorers 2013
Sean McCarron – 8 (1 in FAI Cup)
Kevin McHugh – 7
Michael Funston – 3
Keith Cowan – 3 (1 in FAI Cup)
Mark Forker – 2
Thomas McMonagle – 2
Thomas McBride – 1 (in League Cup)
Matt Harkin – 1 (in League Cup)
James Doherty – 1 (in League Cup)
Marc Brolly – 1 (in League Cup)
Aaron O'Hagan – 1 (in League Cup)
~~~~~~~~~~~~~~~~~~~~~~~~~~~~~~~~~~~~~~~~~~~~~~~~~~~~~~~~~~~~~~~
Finn Harps Results 2013 (Harps goalscorers in brackets)
09-Aug-13 – AL – Finn Harps 2-0 Salthill Devon (Forker 2)
02-Aug-13 – AL – Athlone Town 1-0 Finn Harps
26-Jul-2013 – AL – Finn Harps 1-0 Wexford Youths (McHugh)
19-Jul-2013 – AL – Mervue United 4-0 Finn Harps
12-Jul-2013 – AL – Finn Harps 0-0 Longford Town
28-Jun-2013 – AL – Finn Harps 2-2 Cobh Ramblers (Funston, Cowan)
28-Jun-2013 – AL – Waterford United 3-0 Finn Harps
14-Jun-2013 – AL – Salthill Devon 2-1 Finn Harps (Funston)
08-Jun-2013 – AL – Finn Harps 2-3 Athlone Town (Funston, Cowan)
31-May-2013 – FAI – Finn Harps 2-1 Wexford Youths (Cowan, McCarron)
24-May-2013 – AL – Wexford Youths 2-1 Finn Harps (McCarron)
20-May-2013 – LC – Finn Harps 1-1 Derry City (O'Hagan) – Derry win 6-5 on penalties
17-May-2013 – AL – Finn Harps 1-0 Mervue United (McCarron)
11-May-2013 – AL – Longford Town 2-3 Finn Harps (McCarron, McHugh, McDonagh og.)
04-May-2013 – AL – Cobh Ramblers 2-2 Finn Harps (McHugh, McCarron)
26-Apr-2013 – AL – Finn Harps 0-1 Waterford United
19-Apr-2013 – AL – Finn Harps 1-0 Salthill Devon (McMonagle)
12-Apr-2013 – AL – Athlone Town 1-0 Finn Harps
05-Apr-2013 – AL – Finn Harps 0-0 Wexford Youths
29-Mar-2013 – AL – Mervue United 2-2 Finn Harps (McMonagle, McHugh)
23-Mar-2013 – AL – Finn Harps 1-0 Longford Town (McHugh)
15-Mar-2013 – AL – Finn Harps 4-1 Cobh Ramblers (McCarron 2, McHugh 2)
08-Mar-2013 – AL – Waterford United 1-1 Finn Harps (McCarron)
03-Mar-2013 – LC – Mayo League 1-4 Finn Harps (Harkin, Doherty, Brolly, McBride)
Tags: