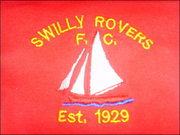 USL Division 1 Cup Final
Leckview Park
Roulstone the Hero as Swilly Retain Cup
Swilly Rovers Res 1
Drumkeen Utd. Res 1
(AET, Swilly win 5-3 on penalties)
Returning goalkeeper John Roulstone was the toast of Swilly Rovers on Saturday evening as he saved Drumkeen captain Rory Gildea's penalty to hand Swilly a victory that hardly looked likely after Drumkeen took a first half extra time lead in a game they dominated for long periods at a windy and sometimes wet Leckview Park that was in superb condition.
Drumkeen will be be wondering how they let this one get away after Conor Carlin tucked home Lee McMonagle's finely weighted pass in the first minute of extra time to give them a lead that was a long time in coming. Carlin and McMonagle looked lively throughout and perhaps had the service in the final third been a little better they could have claimed the silverware in normal time.
Drumkeen started the better of the two sides and fashioned their first opportunity as early as the second minute when Ray Quinn helped on Cathal doyle's free kick but Chris Kyle's header cleared the cross bar. Swilly's first attack of note came from the left flank in the 10th minute when left back Ciaran Diver delivered a delicious cross that both Oisin Duffy and Liam O'Donnell narrowly missed. From that point on however Kyle and Quinn snuffed out any threat offered by the Swilly attack for a long period and formed the launching point for the St. Patrick's Park outfits first half domination. Drumkeen forced a series of corners and free kicks but just failed to find the finishing touch on several occasions, the most notable when Lee Guthrie's goalbound header from another good Doyle delivery was cleared off the line by the alert Cathal Diver in the 29th minute. Carlin, McMonagle and Doyle all had tried their luck from distance but failed to trouble Roulstone in the Swilly goal. Drumkeen almost snatched the lead on 37 minutes when Carlin's goalbound effort took a delfection off the excellent Marty Boyce and had Roulstone at full stretch as the ball just cleared the crossbar for another Drumkeen corner. Swily finished the half creating two chances for centre forward Liam O'Donnell. His first effort was a goalbound header thats well blocked by Quinn before he was teed up by James McCahill just before the break but miscued when well placed just 12 yards out. Swilly manager Marty McDaid will have been happy to hear the half time whistle and get his players in to regroup.
The second half began in the same pattern as much of the first half with Drumkeen on top in the early stages with half chances falling to Carlin and Doyle and Boyce making another outstanding block after a good run by McMonagle who let fly from 18 yards only for the outstretched Boyce to get a leg in the way and prevent the ball reaching the goal. Swilly then lost influential captain, James McCahill on 59 mins but his replacement, Jordan Toland proved an able replacement in the Swilly engine room and was at the heart of most of Swilly's best attacking moves from then on. First he released Patterson down the right and his precise low cross was just missed by the inrushing Liam O'Donnell and then Odhran Grant almost headed into his own net after a wonderfully delivered free kick from Toland but his header just cleared his own crossbar to the relief of Grant and Gibson in the Drumkeen goals.
Gildea then delivered a good cross to Carlin in space at the back post in the 79th minute but the diminutive forward chose to volley first time when he should have taken the ball down and tested Roulstone in the Swilly goal. Toland then shot narrowly wide with Gibson scrambling on 85 mins and after a neat one-two with McMonagle, Carlin again fired over when in a good position as both teams chased a late winner as extra time beckoned.
Drumkeen finally got a deserved breakthrough in the first minute of extra time when McMonagle ran at the Swilly defence – now minus the influential Boyce who had left field injured on 83 mins – and he slid through a perfectly wieghted pass and this time Carlin finished coolly into the bottom corner giving Roulstone no chance. It looked like this could well be the opening of the flood gates for the Drumkeen men but to their credit Swilly lifted their game and they were back on level terms just before half time in the extra period when Toland's low corner was miscued by a Drumkeen defender and the ball fell invitingly for the hard working O'donnell and he gleefully prodded home from 6 yards to restore parity. In the second period Swilly almost took the lead when sub Curtis flashed wide after good work from O'Donnell and Doyle should have restored Drumkeen's lead moments later but he shot wide as roulstone closed him down. Both teams sought a winner to avoid the dreaded penalty shoot out with Logue heading tamely at Gibson after stealing in at the back post to get onto Toland's precise free kick and the last chance fell to veteran Chris Kyle, who was excellent hroughout but he failed to direct his header on to the target as time expired.
Drumkeen skipper, Gildea failed with his side's second spot kick when Roulstone guessed the right way and with Swilly successful from their first four attempts it was left to centre back Johnny Logue to fire in the winning penalty and bring the cup back to Ramelton for another year. Drumkeen will be left to ponder how they let this one get away while Swilly got better as the game wore on and defended well throughout to clinch back-to-back Cup victories.
Both teams served up a very sporting contest that made it very easy for the match officials to handle with just a couple of bookings to show for the 110 minutes of football. The runners-up had good performers in veterans Kyle and Quinn a the back, Grant and Doyle in midfield and the front pairing of Carlin and McMonagle. The victors were well served by Roulstone, Boyce, Dan & Liam O'Donnell and subs Jordan Toland and Ryan McDaid.
Swilly Rovers: John Roulstone, Duncan Patterson, Ciaran Diver, Johnny Logue, Marty Boyce, James McCahill, Ryan McDaid, Daniel O'Donnell, Liam O'Donnell, Oisin Duffy, Cathal Diver. Subs: Jordan Toland, Ronan Curtis, Ryan McDaid, Kyle Black (All Used), David Fisher, Bobby Hanlon.
Drumkeen Utd.: Michael Gibson, Mark Conway, Rory Gildea, Chris Kyle, Ray Quinn, Odhran Grant, Cathal Doyle, Lee Guthrie, Lee McMonagle, Conor Carlin, Ryan Kelly. Subs: Ebeneezer Phillips, Benny Bonner (used), Gerard Bonner, Justin Deasley, Travis Lafferty, Conor Black.
Ref. V. McLaughlin; Assts. C. McLaughlin & M. Lagan
USL Results & Reports 18.08.13
4 Lanterns USL
Fanad Utd. Cockhill Celtic
Swilly Rovers Letterkenny Rovers
Bonagee Utd. Finn Harps Res
Kildrum Tigers Derry City Res.
Division 1 Cup Final
Leckview Park
Swilly Rovers Res. 1 1 Drumkeen Utd. Res.
(AET, Swilly won 5-3 on pens)
Reports
Letterkenny Win Battle of Rovers
Swilly Rovers 1
Letterkenny Rovers 6
Victory for the Letterkenny men in a very one sided affair at Swilly park. Swilly minus regular goalkeeper Gareth Wade and several other first team regulars were no match for a slick moving Letterkenny Rovers. Oisin McMenamin with a well taken hat trick, Glen Gallagher with a superb 30 yard drive, Jason Doherty and Darren McElwaine with a penalty scored for Letterkenny. Ronan Curtis got a consolation goal for Swilly near the end for a disappointing Swilly team. Letterkenny led 3-0 at the break and were much sharper to the ball throughout playing some good football too.
Swilly Rovers: John Roulston, David Fisher, Laurence Toland, Martin Boyce, Dylan Hegarty, Jordan Toland, Darren Dunworth, Ryan Toland, Blain Curtis, Ronan Curtis, Kyle Black
Subs: Jonny Logue(used), Michael Mc Hugh(used), Daniel O Donnell
Letterkenny Rovers: Jason Quinn, Kieran Doherty, Dan O Donnell, Johnathon Minnock, Ruairi Kelly, Chris Malseed, Odhran Mc Macken, Glen Gallagher, Darren Mc Elwaine, Oisin Mc Menamin, Mark Neeson
Subs: Jason Doherty(used), Kevin Mc Grath(used), Anthony Gorman, Anthony Doherty, Matthew O Rourke, Shane O Gara.
Match Referee: Thomas Mc Aree
Harps Edge Seven Goal Thriller
Bonagee Utd. 3
Finn Harps Res. 4
Having shared the spoils in an eight-goal thriller earlier in the season, it was the visiting side that stole the points late in the game through Shane McGintys effort that beat Darren Smyth from ten yards. Bonagee began this game missing a couple of regulars, but could have taken the lead in the 2nd minute when Anthony Appiah stung the fingers of the Harps keeper with an effort from long distance. Appiah was instrumental in everything positive in the first forty five, and it was he who fed the ball to Seamus Browne for the first goal in the 14th minute. At this stage, Harps were beginning to exert pressure on the Bonagee defnce and got in behind a number of times, only for Smyth to deny their frontmen on all occasions. They did draw level in the 29th minute, when Daragh Black slid home a pass from Gareth Colhoun. They doubled their lead six minute later, when Jordy Duffy scored an almost carbon copy of the first goal, again Colhoun the provider. Bonagee equalised in the 53rd minute when Aidan McLaughlin headed home an Appiah corner and at this stage the home side were well on top. Further chances fell to Browne and McLaughlin but neither effort bothered the visiting keeper. Harps drew level in the 83rd minute when Duffy got his second from a Christopher Flanagan cut back and against the run of play, they scored the winner in the 91st minute through McGinty. Ref Paul Duddy
Cockhill Hit Fanad for Five
Fanad Utd. 0
Cockhill Celtic 5
Cockhill moved back to the summit of the USL table on goal difference after a big win in Fanad on Sunday. This game started very even with both sides looking to break each other down and for the first 30 minutes Cockhill were left with only a long ball with the home side looking comfortable. But on the 30 minute mark Cockhill broke down the right and crossed for Garbhan Friel to head home from 6 yards. They soon made it 2 when a clearance fell to Malachy McDermott to finish exquisitely from 20 yards. Cockhill also soon found themselves 3 up with Gerard Mc Laughlin finished off from 4 yards following a scramble in the box. They hit again on the stroke of half time from a set piece as Johnny Havlin headed home to leave it 4 nil at half time.
Fanad to their credit made a decent effort of the second half and made it difficult for Cockhill to score any more and limited them to half chances. Cockhill did score again when Glenn McNulty finished into his own net on 75 minutes and this proved to be the last real piece of action in this game. For Cockhill they remain unbeaten in the league and are on course for a showdown with Drumkeen for the league title. Fanad move on and credit to this young side that ground it out in the second half.
Best for Cockhill were Gerry Gill and Malachy McDermott while Brian McVeigh and David Edwards were tireless for Fanad
Ref P. Coll.
Fixtures
4 Lanterns USL
Wednesday, August 21st at 7pm
Derry City Res. v Swilly Rovers
Ref. P. Coll (match reversed to Swilly Park)
Sunday, August 25th at 2pm
Cockhill Celtic v Bonagee Utd.
Ref. S. Toner
Letterkenny Rovers v Fanad Utd
Ref. W. Harvey
Monday, August 26th at 7:45pm
Finn Harps Res. v Drumkeen Utd.
Ref. T. McAree
DPD Division 1
Wednesday, August 21st at 7pm
Letterkenny Rovers Res. v Bonagee Utd. Res.
Ref. V. McLaughlin
Saturday, August 24th at 2pm
Swilly Rovers Res. v Kildrum Tigers Res.
Ref. T. McAree
O'Brien Outlines Plans for USL Inter Provincial Squad
Newly appointed Joint manager of the Ulster Senior League Inter Provincial Squad, cockhill Celtic's donal O'Brien has outlined the preparation the squad will undertake in the build up to this year's competition that takes place in Sligo between September 27th and 29th.
"We will be contacting the clubs this week to check on the availablity of players for this year's tournament. Both Trevor and myself consider it a great honour that we have been asked to lead the side this year and we hope that the players feel the same way. We feel there is a great opportunity there for the players to win the tournament and perhaps for one or two of them to achieve Irish Amateur recognition. Those have to be the goals. We feel the standard of the league is very high this year and on a par with anything else in the country. Hopefully with the tournament in nearby Sligo this year, we can travel with a very strong squad", he said. "We plan to hold a few training sessions, mostly on Tuesday nights and we are lining up a couple of friendly matches – we have one confirmed with Finn Harps on Tuesday, Sept. 3rd in Finn Park and we hope to take on Derry City in Maginn Park on Tuesday, spetember 17th depending on FAI Cup games etc. We will train in the Aura Leisure Centre on Tuesday, August 27th, Tuesday, Sept. 10th and finally on Tuesday, Sept. 24th and we hope to be in a position to name the panel by next weekend. We will be looking for a full commitment from those selected – just as Trevor and I will be giving ours", he concluded.
League PRO Paul McGovern commented, "We met with Donal and Trevor last Monday night and they outlined their plans for the Inter-Pro squad to the executive. We were all very impressed not only by their plans, but by the desire and commitment they are prepared to put into the job. They bring a wealth of experience to the position both from their playing days and also from their coaching experience – Donal has been doing a terrific job with Cockhill for a number of years and Trevor of course had a 5 year stint working here in Donegal with the FAI. They both have a real desire for the league to perform well at the tournament and we hope that the players will back them by giving their commitment to the team this year. It speaks volumes about Donal that despite the fact that his team, Cockhill Celtic are involved in a tight race for the title that he is willing to take on this extra responsibilty, such is his belief in the quality of players in the league at this point in time. We would like to thank Ollie Horgan for his efforts over the last 8 years in the job, most notably last year when he gathered a panel to make the long journey to Cork despite Donegal playing in the All-Ireland Football Final that same weekend."
The USL team played out a 5-5 draw in their opening game in last year's tournament with the Leinster Senior League on the Friday night before going down to a late winner against the eventual winners, the Munster Senior League on the Saturday. With only 11 fit players to chose from they were then defeated by connacht on the Sunday morning. The draw has been made for this year's tournament and the team will again take on Leinster in their openeing match on the Friday night before taking on the Connacht league on the Saturday afternoon and finishing against the holders, the munster Senior League on the Saturday morning.
Tags: