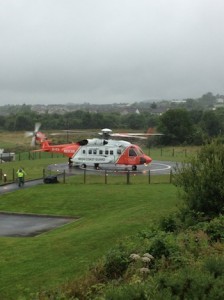 A WOMAN injured in a traffic accident on Aranmore Island has been airlifted to hospital.
The woman received a back injury in the incident.
The Sligo Search and Rescue helicopter – Sligo 118 – was called in and the woman was taken to Letterkenny General Hospital where she has been treated for her injuries.
Aranmore Lifeboat crews and local medical staff tended to the woman on Sunday before being transferred to the chopper for the flight to Letterkenny.
On Saturday the Sligo 118 was also deployed to transfer a seriously ill child from Letterkenny General Hospital to the children's hospital at Crumlin, Dublin.
Tags: