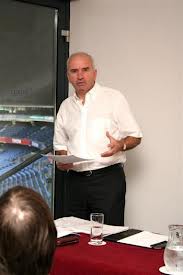 VOICE of sport Charlie Collins has joined forces with Letterkenny businessman Enda Nicholls in a bid to oust Highland Radio off the airwaves, it has emerged.
The Sunday Times reports that Collins, who quit Highland earlier this year, is part of a consortium with the owner of Arena 7 entertainment complex which is bidding to win the license to broadcast in north Donegal from next year.
Until now the only person named in the consortium is Inishowen businessman Paddy Simpson who has extensive business interests including Derry's version of Arena 7 on the city's Buncrana Road.
Mr Collins worked at Highland for 22 years.
Friends say he left the station where he worked as general manager and head of sport.
That position was later given to presenter Shaun Doherty.
The consortium would put the station back in the hands of Donegal people. It is currently owned by a Galway family.
However Highland has vowed to fight to keep the license to broadcast for another ten years.
* For all the latest breaking news online – www.donegaldaily.com
Tags: