Promoted post
Businesses across Donegal and further afield are taking advantage of a local company which is putting customers first – with excellent results.
Customer Service Excellence Ireland is a company which is measuring and ensuring excellence across all sectors and sizes of business in Ireland.
Research and customer service audits in the recent years have shown a clear fall in the level of customer service standards with most experts and observers pointing to the Celtic Tiger years as having a damaging effect.
"We simply took our eye off the ball" a spokesman said.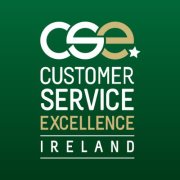 Customer Service Excellence Ireland provides programmes to suit all sizes of business which start with measuring the quality of service.
This is followed by relevant training workshops and the continuous improvement of the customer service quality.
The aim then is to bring the service quality to the level of excellence and this is measured independently and recognition is then granted to the business.
One such local company who has taken advantage of Customer Service Excellence Ireland is Letterkenny-based butcher shop Joe's Butchers.
The well-known butcher shop, based in the Letterkenny Shopping Centre, is the most recent recipient of the Customer Service Excellence Ireland award.
They follow Glenveagh National Park and the Sandwich Co as others in Donegal who have used the programme.
Joe McGee owner and well known businessman on receiving his award said they wanted to match their great products with great customer service.
"We wanted to invest in our customer service standards so that our great produce on sale was matched by the customer experience being at a high level. We employed CSEI and found the partnership with them of huge benefit.
"They measured where we were and then set about working to get us to a level where we feel the customer wants to be. The training used was very involving of our staff and in fact our staff suggested many of the improvements. It has been very worthwhile and we will continue our work with CSEI to ensure service excellence continues."
Customer Service Excellence Ireland was launched only this year and brings a fresh approach to the all important area of customer service.
The training used in the workshops has the aim of establishing a focus on the customer experience and how that can be improved. By having a measurement before training and a recognition programme as a follow up, all three elements combine to produce a stronger customer service satisfaction outcome giving the business that uses the programme, a competitive edge.
Your business may need a steer in the right direction and Customer Service Excellence Ireland could well provide that gentle push.
For further information email; team@cseireland.ie , call 07491 16597 or visit our website www.cseireland.ie
Tags: