A call has been made by a west Donegal politic activist for the National Roads Authority and Donegal County Council to address the poor condition of some of the road surfaces in the the Rosses area.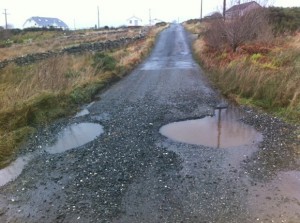 Micheál Cholm Mac Giolla Easbuig has said that in a number of specific areas the conditions of the roads could be damaging to the vehicles of those who travel on them, bringing further financial hardship to already cash strapped families.
"A number of the roads in the Rosses area of Donegal are in an appalling condition and seem to either go un-noticed or have been forgotten about by the NRA and Donegal County Council" Mr Mac Giolla Easbuig said.
And he added "The road between Annagry and Rannafast are of particular concern as is a stretch between Crolly and Loughanure. Unsuspecting drivers who come upon these sections of poor road could be be caught out and end up in difficulty at the side of the road.
Local drivers who have to frequent these roads on a daily basis are finding that driving over such road surfaces is having a detrimental effect on their family cars, he claimed.
"In these already challenging times when many families are finding it hard to make ends meet, the last thing they need is the added expense of having to hand out more money to fix their cars simply because the NRA and Donegal County Council have neglected roads in their area."
He called on the NRA and Donegal County Council to address the problem.
"I would hope that the NRA and Donegal County Council are already in the process of addressing some of the poor road conditions in the Rosses area, but if not I would call on them now to do so, both in the interests of safety on our roads and to help aleviate further financial worry on struggling families."
Tags: