A remarkable ceremony to mark the grave of one of Celtic FC's founding members is to be held in Co Donegal on Saturday week.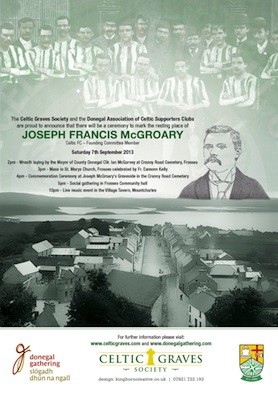 In conjunction with the Celtic Graves Society there will be a family ceremony in Frosses graveyard to mark the grave of Joseph Francis McGroary who 125 years ago was part of the committee responsible for founding Glasgow Celtic.
Those who will attend the ceremony will include a member of Celtic FC, members of the McGroary family and members of the Association of Donegal Celtic Supporters club.
All Celtic supporters are welcome to attend the event and flowers/tributes can be laid at the graveside.
Born in Glasgow in 1865 his father Bernard was from Inver, Donegal and Joseph maintained connections with Donegal throughout his life, spending his last days in the town of Mountcharles.
He was married in August 1888 in Mountcharles to his sweetheart Catherine Cannon from Drumkeelan. He was one of the first post-Reformation Catholic solicitors in Glasgow and active in the city's Irish political scene.
A pupil of St. Aloysius College along with other early Celtic figures such as John H McLaughlin and Joseph Shaughnessy he later represented it in elections for the city's Catholic Union and was a member of the Irish National League along with other key figures in the foundation of Celtic FC.
After meetings were held to establish a new Irish Catholic football club in the East End of Glasgow in late 1887, Joseph McGroary was one the club members elected to be part of, in Willie Maley's words, 'the Committee formed to carry through the great work'.
Joseph was a Celtic committee member at various times throughout the club's tumultuous first decade and played a significant role in the stormy debate over the direction the club would take in becoming a limited liability company in 1897.
A colourful character, Joseph left Glasgow for Brooklyn, USA 1898 before returning to Mountcharles some four decades later, where he passed away in 1937. He provides a direct connection between the County Donegal and Celtic FC from the club's earliest days.
This commemoration has been organised in association with the Donegal Gathering and is one of a series of events designed to invite the Donegal Diaspora home in this year-long celebration of all things Irish.
Tags: