The Ramelton Audio Heritage Tour will be launched by Cllr. Ian McGarvey, Mayor of County Donegal in the Old Meeting House, Back Lane, Ramelton on Thursday, September 5 at 2 p.m.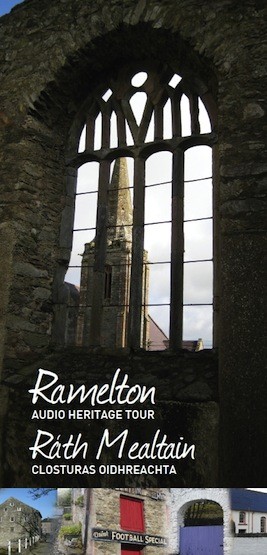 The Ramelton Audio Heritage Tour is a free walking guide produced by Mary Phelan of Sound Woman Productions.
The script of the audio heritage tour is based on the booklet 'Ramelton – an illustrated guide to the town' by local historian Mary Haggan and is narrated by Mary Phelan and Declan Gibbons.
It is available free-of-charge in mp3 format along with an accompanying brochure that outlines the heritage tour route. At the launch, there will be a draw for two free mp3 players followed by a short walk along part of the tour route.
The audio guide takes you on a fascinating journey through this unique Georgian town's history and built heritage. Ramelton is one of five towns in County Donegal recognised as a heritage town by Donegal County Council and Fáilte Ireland.
As part of the tour, you can visit the seventeenth-century Tullyaughnish Church, moving towards the Presbyterian Meetinghouse which is one of the earliest Presbyterian churches in Ireland, past the iconic warehouses along the quay, as well as the striking shopfronts along Gamble's Square, across the sturdy three-arch Ramelton bridge and finally onto Green Lane which is the former centre of the linen industry in the town.
Other historical highlights on this self-guided tour will include the site of the original castle built by the O'Donnells in the fifteenth century, the captivating town hall, and the imposing Georgian townhouses along The Mall. To further enhance your experience, the audio tour includes extracts from Ceól a'Ghleanna – The Music of the Glen by Ciarán Ó Maonaigh.
"The Ramelton Audio Heritage Tour is an innovative idea. Through modern technology, people – both locals and those visiting the area – have access to the rich cultural heritage of Ramelton, be it in the comfort of their own home or on the street beside these heritage sites" explained Joseph Gallagher, County Donegal Heritage Officer.
"Ramelton's built heritage is representative of Ireland's social, cultural, economic and industrial development and this audio heritage tour will help to raise awareness of the heritage and history right on our doorstep. It will greatly enrich visitors' experiences as they navigate through the town."
The Ramelton Audio Heritage Tour and the accompanying bi-lingual brochure were made available with the support of The Heritage Council of Ireland and the County Donegal Heritage Office, Donegal County Council under the County Donegal Heritage Plan.
The audio tour can be downloaded free-of-charge as an mp3 file and is compatible with software such as Windows Media Player, iTunes and Winamp. You can download the tour and listen to it using a mobile phone, iPod or mp3 player. The audio file can be downloaded from the County Donegal Heritage Office, Donegal County Council website at www.donegalcoco.ie/heritage
Tags: