Today Donegal Daily has launched a sister website – www.derrydaily.net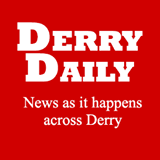 Most of us living in Donegal travel in to Derry regularly and many of our neighbours travel out to Donegal.
Thousands of us traveled into the city recently to see the amazing Fleadh.
So, following on from the huge success of Donegal Daily, we have decided to give the people of Derry their own online voice.
Just like Donegal Daily we plan to cover all the breaking news from across Derry.
Many of the stories which appear on www.derrydaily.net will be of some interest to Donegal readers.
Today we have some great stories on Girls Aloud star Nadine Coyle, the development of GAA in Derry as well as full coverage of the funeral of literary great Seamus Heaney.
We also have the latest, breaking news.
Why not log on to www.derrydaily.net for yourself and have a look and like us on Facebook if you want to keep up to date with our North West neighbours.
Tags: