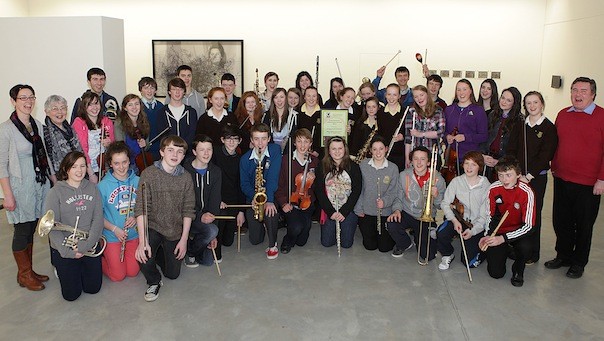 As the last bars of music fade away on what has been an outstanding summer of music in the North West, the Donegal Music Education Partnership is taking up the baton and inviting aspiring musicians and singers to take part in a huge range of classes aimed at beginners, intermediate and advanced students of all ages.
For those who do not fancy a solo career path, there are numerous performance ensembles and choirs to join too with a repertoire covering a wide range of musical genres through classical, folk, traditional, jazz and pop – the Children's String Orchestra, The Donegal Chamber Orchestra, The Errigal Groove Orchestra, The Donegal Youth Choir and the Inishowen Music Collective – to name just a few.
In order to whet your appetite and attract new talent, the organisation is holding auditions on 7th & 8th September in Letterkenny for a number of full scholarships and half-scholarships in selected instruments.
2013 has been an amazing year for the students of DMEP and many have found themselves performing locally, nationally and internationally as well as performing for prestigious cultural events such as the EU Presidency celebrations.
In February, Falcarragh-based jazz duo, Conor & Michael Murray and members of the Cloughaneely Ceili Band performed to an audience of distinguished delegates in Kilmainham Hospital, Dublin at a conference organised as part of Ireland's EU Presidency.
Conor Murray, who plays double bass, was also selected to join the National Youth Orchestra of Ireland while David Mc Kelvey, a trombone player from Glenties, was selected to join the Irish Youth Wind Ensemble.
In early July, the DMEP's Errigal Groove Orchestra, led by Inishowen saxophonist Sean McCarron, performed at the National Youth Council of Ireland's National Youth Arts Day in Dublin, giving them an opportunity to meet Jimmy Deenihan, TD, Minister for the Arts, & other influential people as well as to network with other youth arts groups from around the country.
But perhaps the most exciting achievement of 2013 (thus far) has been the success of four young classical music students who received scholarships to attend the Summer Chamber Music Workshop at the renowned Apple Hill Centre for Chamber Music in New Hampshire, USA – an acknowledged international centre of musical excellence. Joanne Cuffe (from Ramelton), Ciara Fagan (from Carndonagh), Claire Kinsella and Jane Gormley (both from Letterkenny) are all members of the award-winning Donegal Youth Orchestra and spent the month of July in Apple Hill where they received tuition and performance experience under the direction of Leonard Matczynski and other world-class teachers.
What music classes and instruments are offered by DMEP?
The DMEP teaching year begins on the 9th September 2013 and the organisation is offering small-group (3 per tutor max) and individual tuition in an absolute treasure-trove of instruments and disciplines: piano and keyboard, acoustic, bass and electric guitar, banjo, mandolin, uilleann pipes, harp, flute, recorder, clarinet, oboe, saxophones of all sizes., fiddle, viola, cello and a complete range of brass instruments such as trumpet, horn, tuba, trombone and euphonium.
In addition to the instrumental opportunities for learning and participation, the Donegal Music Education Partnership also is a wonderful resource for vocalists and singers. Students are taught how to develop the voice safely, some sight-reading and theory, taught in the rock, pop and classical styles. Learning to perform is a big part of being a singer and students are encouraged to join the various Donegal choirs such as the Errigal Singers and Donegal Youth Choir.
So where can you go to learn music, play in a band or sing with DMEP?
Tuition is available at 11 teaching centres throughout Country Donegal, from Donegal Town and Ballyshannon in the south, through Letterkenny, Gortahork, Gweedore and Gelnties to Arann Mor Island and up into the Inishowen Peninsula at Buncrana, Carndonagh and Moville. There are regular meetings of each of the performing groups held in different locations throughout the county.
And if you do not own your own instument or do not want to buy one yet?
Well you can always hire one from DMEP at low cost, so there is absolutely no excuse why you cannot take up a new musical hobby this September, which may even one day become a successful part-time or even full-time career. And on this optimistic note the DMEP is keen to report that in times of economic hardship, unemployment or even as a student trying to pay your way through college, there are many former DMEP students who supplement their income by teaching music privately or even playing in hotels, restaurants and bars (piano players are especially in demand!).
The DMEP teaching year begins on the 9th September with a full range of instrumental and singing classes on offer.
Auditions will be held on 7th & 8th September in Letterkenny for a number of FULL SCHOLARSHIPS and HALF-SCHOLARSHIPS in selected instruments
To view a full list of music and voice classes, performing groups and teaching centres throughout the country, visit the Donegal Music Education Partnership website at: http://www.dmep.ie or ring us in our Letterkenny office in the Regional Cultural Centre on +353 (0) 74 91 76293 or +353 (0) 74 91 20012.
Tags: