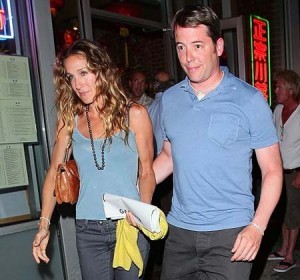 GUESTS at a top Co Donegal hotel were star-struck today when Hollywood couple Sarah Jessica Parker and husband Matthew Broderick popped in for coffee.
The parents of three children stopped at the Mount Errigal Hotel in Letterkenny today on their way to their holiday home near Kilcar.
The couple have been coming for years to their modest holiday home where the Broderick family has long established connections.
Today Sarah Jessica, dressed in leggings and a jumper and wearing sunglasses, ordered a skinny latte whilst husband Matthew ordered an Americano and croissants!
"They were so nice and polite," said one hotel guest.
"They were very unassuming and appeared to be enjoying themselves."
The couple flew into Belfast earlier today before driving here to Donegal for a break.
They are no strangers to the Mount Errigal Hotel either.
The hotel became world-famous when the celebrity couple spent part of their honeymoon there.
Tags: