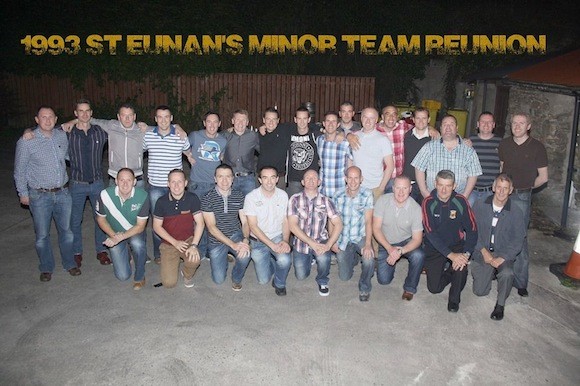 The last time they were all together, they probably weren't allowed a pint and more than likely didn't have the price of one.
The victorious St.Eunans 1993 Minor champions met at the weekend for a 20 year reunion.
And the good news is that despite the years, most of them still have their own hair and their own teeth.
The team, which included many familiar faces, beat Ballyshannon in an evenly contested final which was on show in Blakes bar along with the u14 & u16 winning final games.
Needless to say the performances of many grew greater as the refreshments flowed over the night.
Much credit for this success was down to the strategic management of Seamus Temple at u14 & Brendan Roache for U16 & minor.
Indeed with both Temple and Roache looking younger by the year, it was difficult for many to tell who was the team and who was the management!
The minor team reached the Ulster Club Final only to be beaten the loup Derry in a close game. The team were depleted due to suspension and injuries of key players in what could have been.
Many friendships were made and still maintained to this day.
An enjoyable night was had by all and Eugene Duffy is already planning the 30th anniversary.
Tags: