Seventeen year old Lisa Moore from Ramelton is currently en route to Mont le Soie, Vielsalm in Belgium as part of the team to represent TREC Ireland at the 2013 European Young Rider Championships.
Since discovering the sport early in 2011, Lisa and Jo have had a host of success including winning the Level 1 National Championships in 2011, the Donegal Championships in 2013 and the top young rider at the Irish National Championships in 2013.
Originally developed as a method of testing the navigational skill of profession trail guides in the French Alps, TREC is a growing sport which tests the skills and competence of the rider and the partnership with their horse.
TREC is composed of three phases, POR (Parcours d'Orientation et de Regularite), is the Orienteering phase. Riders follow a given route on a map at given speeds. Checkpoints are placed along the route, but their locations are unknown to the riders.
For young riders this route is up to 32km and requires great accuracy in compass skills, ridden bearings and grid references. The control of paces phase demonstrates the discipline, balance and training of the horse.
Riders are asked to show canter and trot (without breaking) along a 150m corridor that is 2-4m wide. The highest marks are awarded for the slowest canter and the fastest walk. The final phase, the PTV is a cross country based skills test include obstacles which are mounted and some which are led. This phase may be up to 5km in length.
The Irish team for this event comprises Lisa and her pony Jo Dazzler, Katie Smyth (Whitethorn Jack) and Rohan Madhavan (Annie's Prince), both from County Kildare as well as Annie O'Neill (Templebready Poppy) from West Cork.
Chef d'Equipe Gwen Bastian and Karen Murphy, Secretary of TREC Ireland, will be on hand for the Championships, as well as a huge contingent of family and friends travelling to Belgium to support the team.
Riders will be arriving in Belgium on Monday 2nd of September with horses arriving on Tuesday 3rd, to allow all to settle in and get familiar with the terrain, and of course, the maps. The competition begins on Friday 6th with the vetting and equipment check, with the Orienteering taking place on Saturday 7th, and the Control of Paces and PTV (Obstacles) on Sunday 8th.
Members of the Donegal TREC group would like to wish Lisa, Jo and all the team the very best of luck in the Championship and commend them on this huge achievement.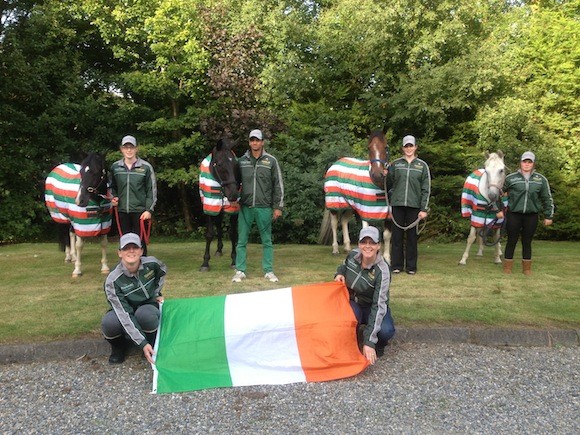 Tags: