Two Donegal lighthouses are to get makeovers in a €2.5m project bringing a much needed boost to the construction industry and tourism.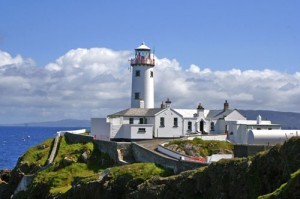 Fanad Head and St John's Point lighthouses are two of five buildings that will benefit from the European Union – the other three are in the North
It is expected renovation work will create 60 jobs in the construction industry.
When refurbishment is finished, a further 10 people will be needed to work in the lighthouses when they go into service.
The three in North included in the project are at Rathlin West Lighthouse on Rathlin Island, Blackhead Lighthouse in Co Antrim and St John's Point Lighthouse in Co Down.
EU special programmes representative Pat Colgan said the project was an "important tourism initiative" which has the potential to create long-term economic and employment opportunities for local communities, on a cross-border basis.
He said: "The initiative represents a niche form of rural tourism that will help broaden out the tourism season of the entire region.he project will also create a lasting legacy that will attract both domestic and overseas visitors for many years to come."
Speaking today at Blackhead Lighthouse, Co. Antrim, where Minister for Tourism Leo Varadkar TD and Northern Ireland Minister for Enterprise Arlene Foster are launching the cross-border project, Deputy McHugh said:
"The development of visitor facilities at Rathlin West Lighthouse (Rathlin Island), Fanad Head Lighthouse (Fanad, Donegal); Blackhead Lighthouse (Antrim), St John's Point Lighthouse (Down) and St John's Point Lighthouse (Killybegs, Donegal), with €2.5m funding from the INTERREG IVA programme, will place this island at the forefront of European maritime tourism.
"This investment of €2.5m in lighthouses on both sides of the border will facilitate tourism access to our unique maritime and lighthouse heritage. This necklace of lighthouses is set against breath-taking coastal scenery.
"This launch comes just four days after I officiated at the launch in Co. Tyrone of the extension of the Appalichian International Trail from the Slieve League Cliffs (Donegal) to Larne (Antrim) and Stranraer (Scotland), linking back with the Faroe Islands, Greenland, Canada and the USA."
Donegal Fine Gael Cllr Noel McBride, who accompanied Deputy McHugh to the launch, said:
"I know from my own involvement with Fanad Head Lighthouse in Donegal, that the local community is pressing ahead with ambitious and clear plans for delivering an excellent maritime heritage experience for visitors."
Tags: