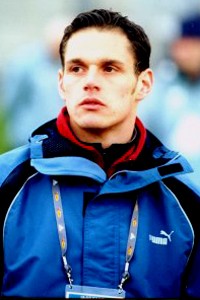 ATHLETE Usain Bolt has confirmed he plans to retire after the 2016 Olympics in Rio de Janeiro.
It's understood he told his manager – Milford man Ricky Simms pictured right – of his decision several weeks ago.
The fastest man in history told a press conference in Brussels that he hoped that in future people would mention him in the same breath as Pele and Muhammad Ali.
The 27-year-old said: "If I'm in great shape and I go (to Rio) and do what I have to do, I think it would be a good time to retire on top and having dominated for so long."
Despite winning the 100m and 200m at last month's World Championships, the Jamaican admitted that he had struggled with motivation earlier this season.
"I couldn't find that goal, that drive to get going again," he said.
"I sat down and thought to myself: what do I really want? And what can I do in this sport some more?"
The star said he picked himself up.
"I've made up my mind that if I want to be among the greats of Ali, Pele and all these guys I have to continue dominating until I retire," he said.
"I'm really focused on getting every season correct, trying not to get injured, and just continue dominating so at the end of my career people will put me among the greats."