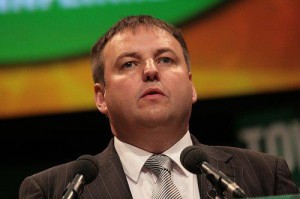 Donegal North East Sinn Féin TD, Pádraig Mac Lochlainn has described news that there is only one registered Personal Insolvency Practioner (PIP) to advise and assist families in debt or mortgage distress in the whole of Donegal as "a nonsense".
He further expressed concern that this PIP will be stretched even further than Donegal as there are no PIPs registered for Counties Sligo and Leitrim.
Deputy Mac Lochlainn said today: "There are serious questions for the Government about how this Personal Insolvency Service is to operate. The news that there is only one PIP for all of Donegal is just a nonsense"
"We know that there are large numbers of families in financial distress across Donegal.
"My colleague, Deputy Pearse Doherty and I recently revealed that the North Donegal Money Advice Budgeting Service (MABS) has an average waiting time of 20 weeks, five times the state average of four weeks.
"The waiting times for North Donegal MABS are the highest of all 51 MABs offices across the state. North Donegal MABS also has the highest number of number of people awaiting their first appointment at 160.
"Since then, we have appealed to the Government to ensure that additional resources are deployed to North Donegal MABs as a matter of urgency"
"Now we learn that there will only be one PIP for the whole county. Families struggling with debt across Donegal are being badly failed by this Government and we in Donegal Sinn Féin are not going to stand for it. As soon as the Dáil resumes next week, we will be putting Government Ministers under sustained pressure to ensure that both the Personal Insolvency Service and North Donegal MABS have the resources they need to adequately support our people".