The Donegal Athletics Board will host its annual 5K Race, Fun Run and Walk this Sunday 15th September in Letterkenny with a start time of 11.30am.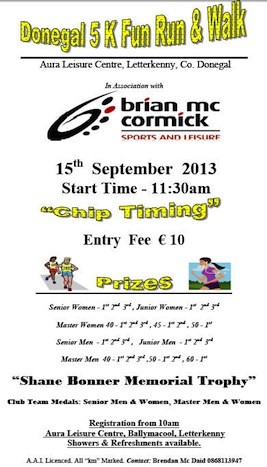 This is the only race organised and run by the Donegal Board with all monies generated going back into the development of grassroots athletics in the county.
Yet again, 2013 has been a super year for road running with a huge interest both in competitive and recreational races throughout the county.
The County Board has been to the forefront of promoting and supporting races in Donegal, which have been organised by athletic clubs, and other sporting, community and voluntary organisations (and which in themselves have raised valuable monies for local causes).
More than 600 attended the 2012 race in Convoy with the inaugural Shane Bonner Memorial Trophy unveiled following the young Convoy athletes tragic death last year. While this race attracts most of the county's top athletes, the event is also designed to attract Fit4Life Groups, Road Running groups, recreational runners and walkers. A Team event adds an extra competitive edge to the race.
Registration Desks open at 10am at the Leisure Centre in Letterkenny. The event will be 'Chip Timed'.
Participants are strongly encouraged to pre register their details to speed up number and chip collection on the morning of the race. Simply email your name, age category, gender and club (if any) to donegalathleticsboard@gmail.com or send a message via the DonegalAthleticsBoard Facebook page.
Spread the word among family and friends and we look forward to seeing everyone there next Sunday.
Tags: