Family and friends of tragic Donegal teenager Conor Boyle are using social media to help keep his fight for life to the fore.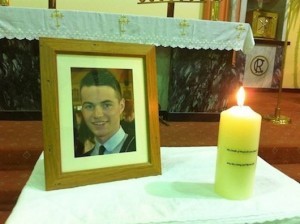 Thousands of messages of support are still flooding in on Twitter and Facebook for the 18 year old Loughanure man.
# Pray For Conor was the most popular subject trending on twitter in Ireland at one stage yesterday as people literally will him to recover.
The 18 year old remains in a coma more than a week after he was involved in a car crash in London.
Conor, a very well-known and hugely respected young man who plays with Naomh Muire, continues to battle for his life.
His parents Shiela and Hugh have been by his bedside willing him to regain consciousness.
Thousands of pictures of Conor as well as messages of support have been flooding in for the young Donegal man who was working with his father in London for the summer having left secondary school in June.
More than 500 people turned up for a mass praying for his recovery in Annagry last Wednesday.
Our thoughts, prayers and best wishes are with Conor's family and friends at this very trying time.
Tags: