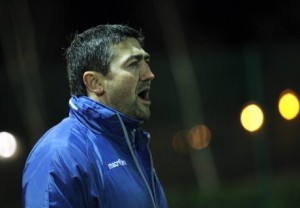 FINN HARPS manager Peter Hutton has tonight insisted he wasn't attacking the Board of the club when he bemoaned the lack of resources for the Ballybofey outfit.
In a lengthy statement on the football club's official website, the Harps boss said he didn't want comments made after Friday's game with Mervue taken out of contest.
Here is his statement in full:
It has come to my attention that comments made by myself following the recent Mervue game have been attributed in some way to me inferring that the Board is in some way to blame for our poor league campaign. This is certainly not my point of view and I would like to clarify my comments which I accept, could have been articulated much better.
First and foremost, our league campaign has unquestionably been very poor after our early season promise, and for that I take sole responsibility.
I am employed as the manager of this football club and I will not blame anyone else for this, while yes, there have been contributing factors but overall there are no excuses. I have certainly learned a great deal in my first season managing a senior club and no doubt will continue to learn every day. I more than anyone have a huge respect for the chairman, the board, and the volunteers of this club who give huge time and commitment.
My comments were intended to highlight that I strongly feel we need a fresh impetus and investment to move the club forward to the next level. If the club is serious about promotion then the current board needs help, support and investment in order to have a realistic chance of obtaining that goal. When I refer to investment for the club I meant investment in the infrastructures of the club, not just on the playing budget. There is an ever increasing amount of administration, information gathering and co-ordination required if we are to continue to upgrade the footballing operations here. Structures like strength and conditioning, sports nutrition and video analysis are considered as a necessity for modern football. These are all elements I introduced prior to the season and I believe they certainly helped, but due to a lack of finance the club had to end these early in the season. This was extremely frustrating for all concerned but unavoidable due to the sustainability of the club naturally taking precedence. These components are now all essential requirements of a progressive club and help set a professional approach and mindset, but they obviously cost money. The sustainability of the club is and always should be paramount and nobody disputes that, but what I'll reiterate is that I believe that if, as a club, we are serious about promotion then investment is required both on and off the field. We cannot undertake a promotion push without the proper investment that ensures both the challenge is viable but also that it isn't in jeopardy of ruining the club financially. If the latter however isn't a viable option then we should look to investing in our youth and provide them with the proper tools and platform to become top quality young players with a totally professional mindset.
We all know the huge potential the club has and if we can encourage more people to support the board and the club we can have a very exciting future.
I fully appreciate the work that goes into running this club and experience this daily at first hand. In regard to the footballing aspect of the club I understand the supporters' frustrations and disappointment this season but I can assure you no one is as disappointed as me and the players. I am more than happy to meet with any supporter or supporters who wish to discuss the future direction of our football operation.
Tags: