Match report for the U12 Hurling County A Final
The U12 Hurling County A Final was held in O'Donnell park last Thursday night between St Eunan's and Four Masters.
Conditions were wet underfoot with a blustery gale blowing across the pitch but nothing could diminish the excellent hurling game and skills that was on show. Both teams had met earlier in the league with St Eunan's only edging Four Masters out, so the numerous supporters were expecting a good game and they were not disappointed.
St Eunan's opened the scoring with a fine point taken by Shane O'Donnell. However, from the puck out, Leo Dunphy broke through the midfield to level the score after 4 minutes of play. Both teams traded points and after 11 minutes the score was level.
St Eunan's Cian Harkin and Shane O'Donnell gradually started to get the better of the midfield area and were able to drop balls into the Four Masters square.
The Four Masters backs Katie O Donnell and Ciaran McGroary dealt expertly with a lot of the pressure but eventually the St Eunan's forward, Rory Doherty scored the opening goal on the 13th minute.
This sustained period of pressure led to St Eunan's goals by Oisin Randles and Shane O Donnell.
However Four Masters proved why they were in the final with superb runs and shots on the St Eunan's goals. However, both goalkeeper Russel Forde and backs Eoin Dowling and Andrew O'Connor were able to clear the area and deliver pin point passes to their brilliant half back line of Marty Duffy and Gavin Forde and start the attack the other direction.
However, Four Masters Matthew Laffan scored an unstoppable goal on the stroke of half time. Half time score was 5-2 to 1-2 to St Eunan's.
The second half started with the same intensity and passion from both teams and both traded goals within the first 10 minutes.
Four Masters point from Leo Dunphy on the 12th min proved to be their last score. Great battling by forward Ger Duffy allowed Paul O Donnell to take a great point under pressure and Shane O Donnell added a few more scores to his tally. St Eunans forward subs Michael O'Donnell, Oran Brogan, Matthew Noonan and Mark Mulholland kept the pressure on Four Masters with fresh legs. Late in the game subs Conor Whoriskey, Peter McGee, Ed Grant and Kieran Tobin all played a pivotal role in keeping the Four Masters threat at bay.
St Eunan's won in the end 7-6 to 2 -3 to retain the U12 A Final cup that they won in 2012. However the score does not reflect the exciting and thrilling contest that was on show and no doubt that these athletes will be meeting each other again in the future.
St Eunans: Russell Forde, Andrew O'Connor, Eoin Dowling, Gavin Forde, Marty Duffy, Shane O'Donnell, Cian Harkin, Paul O'Donnell, Oisin Randles, Ger Duffy, Rory Doherty, Subs used: Michael O'Donnell, Matthew Noonan, Ed Grant, Conor Whoriskey, Peter McGee, Oran Brogan, Mark Mulholland, Kieran Tobin, subs not used: Jack Doherty, Sam Grant, James O'Donnell, Liam Hannigan, James McLaughlin, Conor Horgan
Four Masters: Leo Dunphy, Katie O'Donnell, Luke O'Sullivan, Ciaran McGroary, Sean Conway, Dillan Thomas, Luke Sweeney, Corey Byrne, Cathal McGlynn, Evan Towey, Joshua Laffan, David Oates, Elaine Knight, Ross O'Keeney, Jack Myres, Mark Jordan, Mathew Laffan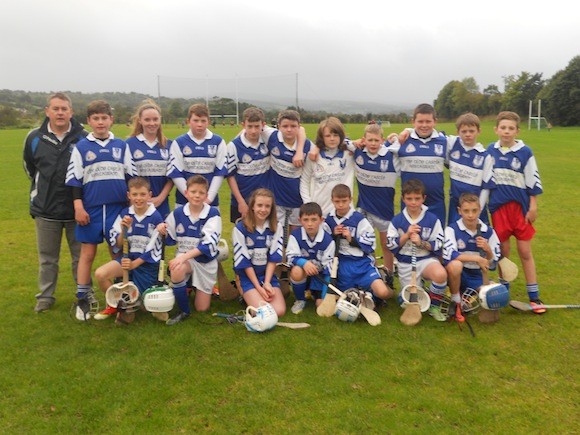 Tags: