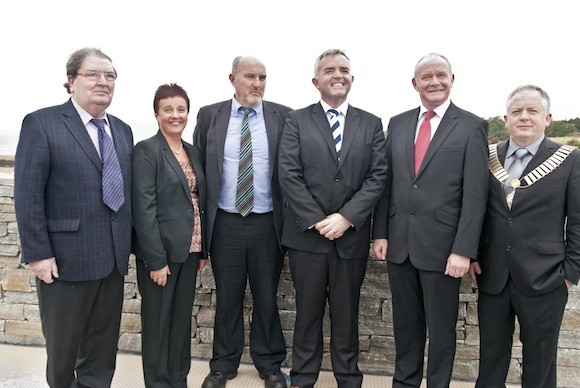 The office of the First Minister and the Deputy First Minister of the North have opened Donegal's Amazing Grace viewing point in Buncrana.
The guests of honour endorsed the significance of John Newton's inspirational story, which connects Donegal and Derry with the hymn "Amazing Grace" and the abolition of the Trans-Atlantic Slave Trade. 
Deputy First Minister, Martin Mc Guinness MLA said, "This is a great story that resonates throughout the world. John Newton was someone who was part of changing the course of history."
Emphasising the importance of working together, Martin Mc Guinness added, "It is wonderful to come here at a time of peace."
Representing the First Minister, Jonathan Bell, MLA added, "Amazing Grace is a hymn that has transcended countries and people. It was sung at Martin Luther King's 'I have a dream speech'. It was sung as the Berlin wall came down. That message of the grace of the Lord Jesus comes to all of us here today."
Caught in a violent storm in the Atlantic Ocean in 1748, John Newton cried out to God for mercy and found refuge in Lough Swilly. He stepped ashore a changed man and this experience later inspired him to write "Amazing Grace". Newton went on to mentor William Wilberforce throughout the 20-year battle to abolish the slave trade.
Jonathan Bell and Martin Mc Guinness jointly opened the new viewing point along with Buncrana mayor, Cllr Peter Mc Laughlin.
Buncrana mayor, Cllr Peter Mc Laughlin added, "We're honoured and immensely proud that the inspiration for the world's most famous hymn came from an event that happened here on the shores of our beloved Lough Swilly and set in motion a story that changed history. "
Acknowledging the major contribution of Inishowen Development Partnership in funding the viewing point, Cllr Nicholas Crossan, Chairman of the Amazing Grace Initiative added, "Our hope is that here on the shores of Lough Swilly, people may be inspired like John Newton to champion justice, peace and reconciliation both on this island and all over the world."
Deputy Joe McHugh TD added, "We can be inspired by the Amazing Grace story. I feel inspired today."
Spokesman for the Amazing Grace Initiative, Padraig Mac Lochlainn, TD, said, "I hope we can embrace the story of 'Amazing Grace' and champion the values of John Newton and William Wilberforce. I would love to make Buncrana and the shores of Lough Swilly a centre for all that is good about humanity – for peace, hope, justice and human rights – a place for rediscovering faith and finding our soul's resting place."
The Amazing Grace Initiative is a joint project of Inishowen Development Partnership and Buncrana Town Council together with local businesses and community groups. The new viewing point is part of an on-going plan to create an Amazing Grace experience for visitors to the region. Work is set to start on a new park in the near future.
Tags: