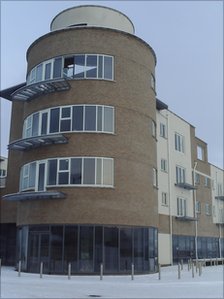 A Donegal town has the highest percentage of vacant commercial properties in Ireland, a report has found.
Ballybofey has a commercial vacancy rate of 28.2%, it was announced today.
Letterkenny was also placed well above the national average with a vacancy rate of 20.2%. The national average is 12.3%.
Charlie Ferry of the Ballybofey and Stranorlar Chamber of Commerce says that this is a shocking statistic.
He said that businesses are under huge pressure under current commercial rates. "If we can get the rates down, it might stave off closures," he said.
Ferry said that more closures are imminent unless the Council cooperate with businesses by lowering rates.
Minister for the Environment Phil Hogan said that the Property Tax would give councils more leeway to negotiate commercial rates, but this has not happened, Ferry said.
The Ballybofey and Stranorlar Chamber of Commerce set up an online petition demanding a 25% reduction in commercial rates for Donegal businesses. It has 33 signatures so far.
Out of the 7268 commercial addresses in County Donegal, 13% were reported to be empty.
The vacancy rates for other towns fell in and around the national average: 15.9% of commercial properties in Buncrana are vacant, along with 9.9% in Bundoran and 12.5% in Donegal town.
These figures arose from a GeoView and DKM Economic Consultants quarterly report on Commercial Properties in Ireland that counted empty units in August 2013.
Annette Hughes, Director of DKM Economic Consultants said "The vacancy rates are also likely to influence the location of new development."
by Rachel McLaughlin
Tags: