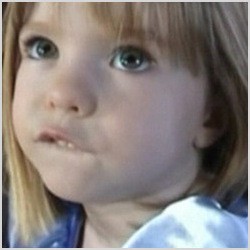 A new picture of a possible suspect connected to the disappearance of Madeleine McCann will be released by UK police on BBC's CrimeWatch programme next Monday. 
The British detectives investigating Madeleine's disappearance are to issue the "e-fit" of a person they wish to interview.
Madeleine – whose grandparents are from Donegal – disappeared in May 2007 while on holiday with her family in Portugal.
Police said in a statement they did not wish to comment ahead of Monday's TV programme.
"We will be asking for help from the public in a number of countries, delivered through a series of public appeals," the statement said.
"We will do nothing to jeopardise the effectiveness of these appeals and we have repeatedly stated that media speculation can be damaging to our efforts."
The appeal will include a reconstruction of the "latest, most detailed understanding" of the events around the time Madeleine went missing.
Scotland Yard has said that a vast log of mobile phone traffic could be the key to finding out what happened to the girl.
Madeleine's father Gerry and mother Kate brought her to Donegal just a few weeks before she disappeared.
Tags: