RAPHOE NOTES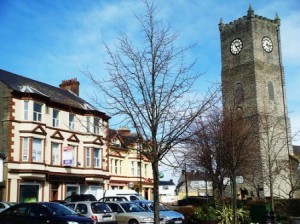 Something Special Support Group Information and Awareness Evening
As part of Social Inclusion Week the something Special Support Group, Which
Supports the needs of parent/guardians of children with Delayed Communication/ Learning Skill, Autism Spectrum Disorders and Physical Disabilities, are holding an information and awareness evening for families, members of the community, local businesses' and organizations , in order to develop a deeper understanding of the needs and issues affecting children and families in everyday life. Held on Tuesday 22nd October 2013 at 7.30pm in the Raphoe Family resource Centre, light refreshments will be served.
Farewell!
The Family Resource Centre would like to bid a sad farewell to Robert Porter after three years with us through Donegal Youth Services CE Project and to Marshall Laird and Patricia Tinney who have left the Centre following the completion of one year through the Tús Programme. Robert, as Youth Worker certainly made a lasting impact on the lives of many children and young people during his time with us. His time with us was indeed a very positive experience and he will be sorely missed.
Marshall and Patricia made significant contributions to supporting the work of the Centre over the past twelve months, and we were fortunate to have two very conscientious and hardworking members of staff being part of the team.
We wish Robert, Marshall and Patricia every success in whatever direction they take in the future.
Best Wishes!
The Family Resource Centre would like to extend best wishes to Laura Doran, our Community Development Support Worker and her husband Liam as they look forward to the arrival of a baby in the next few weeks!
Welcome!
The Family Resource Centre would like to welcome Paul Dean and Kieran Mc Elhinney to the Centre as Newsletter Coordinator and Caretaker. We look forward to working with them both over the next twelve months.
Halloween Fancy Dress disco
Raphoe family Resource Centre are holding a Halloween Fancy Dress disco
On Friday 25th October from 6.30pm to 8.30pm admission 2 euro per child or
COURSES FOR AUTUMN/WINTER
HEALTH AND WELL-BEING THROUGH MINDFULNESS: 'DEVELOPING RESILIENCE'
This programme is designed for those who have completed the Mindfulness programme delivered in Raphoe Family Resource Centre in April/May 2013. The course will be adapted to cater for those who have completed other short courses in mindfulness or who may be beginners. This programme will have a particular focus on 'resilience'. Resilience in the context of this course is the capacity to withstand life's stresses and traumatic events. Psychologists have long recognized the capabilities of humans to adapt and overcome risk and adversity. Individuals and communities are able to rebuild their lives even after devastating tragedies. Mindfulness has been shown to be among the most effective skills in building emotional and mental resilience. Over 8 weeks this course will introduce participants to a range of mindfulness skills. This learning will lead to an increase in capacity and confidence in group members. Practice of these skills will lead to life-long benefits. Programme to be delivered by staff of the Peace and Reconciliation Group, Derry. Places are limited so please book early to avoid disappointment. Contact Melanie on (074) 91 45796 or email: raphoefrc@eircom.net
TUTOR NEEDED
Raphoe Family Resource Centre are looking for a person that can deliver a course to a crocheting class. If you are available please contact Melanie on 074 9145796
CROCHETING CLASSES
Raphoe Family Centre are now taking names for beginners Crocheting classes To book a place contact Melanie on 074 9145796
COUNSELLING SERVICES:
The service which is free and confidential is by appointment only by telephoning 086 3601718.
RAPHOE WALKING GROUP:
The Raphoe Walking Group meets every Thursday at 10.30am in the Family Resource Centre. Everyone Welcome. This is a brilliant opportunity to get fit (ter) and meet new people in your Community.
LITTLE SMILES WITH BIG DREAMS
Little Smile's is a local parent and toddler group that meets in the Family Resource Centre on Wednesday morning from 10.30 -12 noon. The group is also open to grandparents/ Aunts/Uncles and childminders. This is a great opportunity for pre-school children to meet other children, enjoy messy play, story time and music. Light lunch is provides.
AUTUMN SALE & AUCTION
The Annual Autumn Sale & Auction will be held in Carnone Hall on Wednesday 16th October commencing at 7.30 p.m. Usual stalls and teas available.
HARVEST SOCIAL
In aid of Raymochey Parish church on Friday 18th October from 9.00 – 1.00 a.m. in Manorcunningham Resource Centre, Music by George Bustard, supper will be served on the night. Tickets €7.50
SPRINGBOARD FAMILY SUPPORT PROJECT
BOOK A PLACE ON OUR FORTHCOMING PROGRAMMES
PARENTS PLUS PROGRAMME
0-6 YR OLDS / 6-12YRS OLDS
Springboard Family Support Project are now taken names for two upcoming
8 week Parents Plus Programmes –
0-6 YR OLDS & 6-12YRS OLDS
A practical & positive guide to parenting children
Topics include: Being a responsive parent, encouraging and supporting children. Promoting children's language and development. Helping children concentrate and learn Building co- operation in young children, Managing tantrums, misbehaviour and problems.
These programmes will be held on Monday mornings from 10.00 am – 12 noon
Date for programmes to be confirmed
Contact Springboard office on 074 9173918
Venue: Springboard, Castlegrove, Raphoe
(Childcare & Travel can also be provided)
Little Explorers
Parent & Toddler Group
Parent and Toddler Group is an activity which allows Parents / guardians to attend a session which looks at different activities which promotes learning and fun for children aged 0-4 years. Children will avail of a variety of activities which support their physical, social and emotional development as well as promoting their language development.
Parent and Toddler also give parent / Guardians the opportunity to socialize and meet up in a warm caring stimulating environment. The activities on offer at Little Explorers are: Arts & Crafts, Physical play, Circle and Rhyme Time & Information sessions for parents. Parents are provided with a healthy snack!!!! The Parent and toddler session runs every Tuesday morning from 11.00am – 12.30pm. Why not come along and have some fun!!!!
CHANGE OF TELEPHONE NUMBER
St Vincent de Paul Conference of St Columba Raphoe.
Please contact in confidence Tel: 0860696332.
Raphoe Boxing Club
On Tuesday night last at the Ulster Intermediate Championships in the Dockers Club Belfast, Raphoe's Cruiser-weight puncher Gerard Crawford was paired with William McNally (North Down) In his Semi Final bout, and this contest was to be one of the most expensive bouts of the night as both these power punchers turned in 5 star performances and Gerard can count himself very unlucky to have lost out on a split points decision. On Saturday last Raphoe boxers Codie Lafferty, Laim McMonagle and Owen Kelly were entered in the Donegal Novice Championships in Letterkenny and Codie Lafferty was crowned Girl 1 30kgs champion by means of a walk-over and young Laim McMonagle who is having his first competitive season gave a gutsy display only to lose out to Convoys John Reid in the Boy 1 36kgs final. On Tuesday night Owen Kelly was paired with Gerard O'Brien Finn Valley in the intermediate 75kgs final, and the hammer-handed Raphoe Puncher turned in a power-packed display as he outpointed O'Brien at the close of three very absorbing rounds, and no doubt these two gutsy boxers will meet again in the not to distant future.
Tags: