Donegal's own Bering strait swimmer is taking to the waters off Rathmullan for a good cause.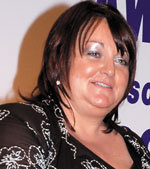 Anne Marie Ward, a true adventurer and pioneering open water swimmer, will next week be lending her support to local organisation, Donegal Travellers Project, when she launches their upcoming Rathmullan cold water swim.
Leading a training swim on the beach on October 16th at 6pm, Anne Marie is keen to share her experience and to support a good cause.
Speaking about the event, Anne Marie said, 'I'm delighted to be involved in this fundraiser and to be supporting a good cause. It's a novel idea and promises to be good fun'.
The Rathmullan cold water swim is a 750m swim that will take place at Rathmullan beach on November 2nd.
The organisers, Donegal Travellers Project, are urging triathletes and open water swimmers who may be thinking that the swimming season is over, to take to the cold water for one last challenge.
However, this is not just an event for the committed and experienced swimmers and novices are being urged to come along for a dip.
This event is open to experienced swimmers and to anyone willing to give it a go on the day. In addition to the 750m swim there will be shorter dip from the beach for anyone who wants to come along for the fun and support a good cause.
An entry fee of €10 will apply to participants in the distance swim.
For further information, please contact rathmullanswim@gmail.com.
Tags: