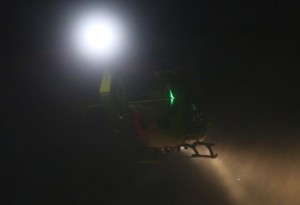 MIDNIGHT UPDATE: By John Gill, Burnfoot: AN AMBULANCE and more armed Gardai have arrived at a security cordon close to where a murder suspect is believed to be hiding.
A chopper with the armed officers touched down in a field off the Brae Road between Burnfoot and Muff just after 11pm.
An ambulance arrived at the scene at ten minutes to midnight.
Gardai believe Kieran McLaughlin, the chief suspect in the brutal murder of Barry McCrory, shot dead in a flat in Derry city centre on Thursday morning, is inside an outbuilding.
Police took the unusual step on Friday morning of issuing a picture of McLaughlin.
Gardai spent Friday searching Border areas close to Derry in the hunt for the suspect.
It followed reports at teatime that McLaughlin was seen close to a parochial house in Muff.
Gardaí later surrounded a barn used to keep pigs, around 2kms away.
Neighbours told us they haven't been told what has been going on.
"The first we knew about it was the large Garda presence," said one.
"We had no idea what was going on."
The PSNI raided a nmber of homes in Galliagh on the Derry side of the Border as part of the operation.
Earlier the killing has been widely condemned with British PM David Cameron the latest to denounce the shooting.
He was in Belfast to attend a major investment conference and he took time out at the end of the event to condemn the killing of Mr McCrory and that of 46-year-old Brendan Kearney in Belfast on Wednesday night.
He said: "These murders are despicable and the people responsible should be hunted down prosecuted and convicted, they should face justice."
The dead man's family, including his mother Anne, father Danny and son Shea attended a peace rally held in Guildhall Square in protest at the killing.
Following a two minutes silence, the crowd of several hundred were told a clear message needed to be sent out from Derry that violence from all quarters was not acceptable in the city.
Meanwhile, Mr McCrory's body remains in Belfast where a post mortem examination has taken place. The family hope to have is remains returned to them tomorrow with burial expected on Monday.
Tags: