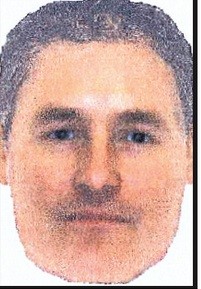 THIS is the German man British police want to trace in their investigation into the abduction of Madeleine McCann.
Madeleine, whose dad's family are all from County Donegal, disappeared in May 2007 while on holidays in Portugal.
The BBC will air a 25-minute reconstruction on Monday evening at 9pm, with broadcasts also going out in Germany and the Netherlands.
Madeleine's parents Gerry and Kate will fly to Germany later this week in a bid to boost the appeal.
The two e-fits are of the same person in the town of Praia da Luz around the time that Madeleine disappeared, and his behaviour was different enough to raise suspicion amongst a number of people.
These are e-fits that have been brought together from a number of different interviews that have gone on over recent times.
The purpose of the appeal is to try and identify these men, to eliminate any innocent sightings or to establish if they are connected in any way.
The McCanns will make a live appeal in the BBC studio, supported by the senior investigating officer, Detective Chief Inspector Andy Redwood.
The Incident Room will be staffed during the appeal and the days that follow, when the appeal moves to Holland and Germany. A dedicated call centre will also be opened at Hendon.
DCI Andy Redwood, said: "The timeline we have now established has given new significance to sightings and movements of people in and around Praia da Luz at the time of Madeleine's disappearance.
"Our work to date has significantly changed the timeline and the accepted version of events that has been in the public domain to date. It has allowed us to work with Crimewatch to build the most detailed reconstruction as yet, and highlight very specific appeal points.
"I hope that when the public see our investigative strands drawn together within the overall context of that appeal, it will bring in new information that moves our investigation forward."
Madeleine's disappearance and the heartache of their parents has been followed closely in Donegal.
Gerry's family are from the county; he has many cousins and friends here – and he visited this summer with his wife Kate and their twins.
Tags: