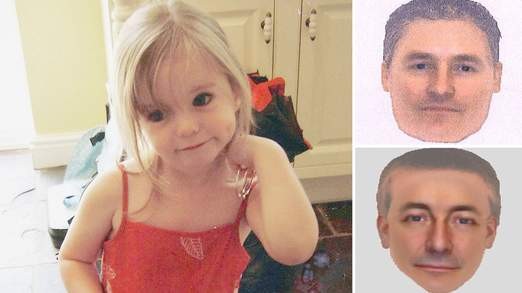 BREAKING NEWS: DIFFERENT callers to the BBC CrimeWatch programme have given the same name of the suspect in the Madeleine McCann abduction case, with one saying he believed the suspect was in Portugal at the time.
The development comes less than an hour after the BBC1 reconstruction was broadcast.
Det Ch Insp Andy Redwood, the senior Metropolitan Police investigating officer, was responding to calls made to the BBC studio and the incident room in London after the programme was broadcast.
He said the response had been excellent to the part of the reconstruction relating to a 10pm sighting in Praia da Luz by an Irish couple of a man – in the e-fits above – carrying a child in her pyjamas.
Police also say one reading of Madeleine McCann's disappearance in Portugal in 2007 is that it has "all the hallmarks of a pre-planned abduction".
Scotland Yard detectives have also said they are looking at burglaries and charity collectors in the area.
Earlier, detectives released two e-fits of a man seen carrying a child towards the beach on 3 May 2007.
But they have ruled out a previous sighting of another man by a friend.
Madeleine was three when she disappeared from her parents' holiday apartment in Praia da Luz, Portugal on 3 May 2007.
Det Ch Insp Redwood also said a number of men had been seen by witnesses in the area on the day Madeleine vanished and one theory was they could have been carrying out reconnaissance.
He said they wanted to track down men seen "lurking suspiciously" near the McCanns' apartment block.
Officers said a man seen carrying a child by the McCanns' friend Jane Tanner at 9.15pm was now believed to be an innocent British holiday maker collecting his two-year-old daughter from a nearby creche.
Det Ch Insp Andy Redwood said: "Our focus in terms of understanding what happened on the night of 3 May has now given us a shift of emphasis. We are almost certain that the man seen by Jane Tanner is not Madeleine's abductor.
"It takes us through to a position at 10pm when we see another man who is walking towards the ocean, close by to the apartment, with a young child in his arms."
The officer also said there had been a four-fold increase in the number of burglaries in the area between January and May 2007 and one possible scenario was that Madeleine had disturbed a burglar.
"Windows were a feature, as well as burglaries taking place in the evening," he said.
Two incidents had occurred in the McCanns' block – one attempted burglary and one actual burglary – in the 17 days before Madeleine went missing, he said.
There had also been an intruder in a property within the holiday complex where a British family with two children were staying the year before, he added.
Police are also looking at possibly bogus charity collectors operating in the area at the time and have released two e-fit images of Portuguese men they would like to identify.
One is of a man aged 40 to 45, who knocked on the door of the apartment where the McCanns were due to stay on 25 April or 26 April between 2.30pm and 3pm, saying that he was a charity collector.
The other, aged 25 to 30, approached a property on the Rua do Ramalhete, near the Ocean Club, at around 4pm on 3 May.
Speaking on during a new appeal aired on BBC Crimewatch, Madeleine's mother Kate McCann described the moment "panic kicked in" when she saw her daughter was missing.
The Portuguese police who were originally investigating Madeleine's disappearance shelved the investigation in 2008.
As a result, according to the police, the timeline and "accepted version of events" surrounding Madeleine's disappearance have significantly changed.
Tags: