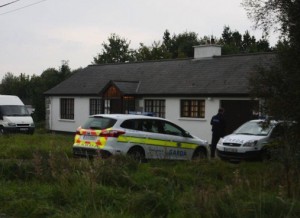 BREAKING News: GARDAÍ are at the scene of a house where a judge has ordered a couple to leave.
It's understood officers are stationed outside the home at Rooskey, near Newtowncunningham.
It follows a ruling by Judge Petria McDonnell earlier today ordering Daniel Green – also known as John Doe – and his wife 'Jane Doe' now known as Marieka Green to leave a house they have illegally occupied for the past six months.
The house is owned by a Mr Charles Reede, the brother of the late Sam Reede a Church of Ireland minister who died two years ago.
Mr Reede wants to sell the house and give the proceeds to Donegal charities, but the sale has been blocked by the trespassers.
Lawyers acting for Mr Reede have once again ordered the Greenes to leave the premises.
But tonight the house has been occupied again.
And it's understood the adult inside is NOT either of the Greenes but a friend of theirs who is not subject to any court order.
This has meant that Gardai have been unable to break their way into the property as the person inside is not the subject of court proceedings.
This person has refused to come to the front of the house.
The situation is understood to be ongoing and is the latest debacle in the case preventing an elderly man getting access to his own property to do good for others.