More than 14,000 people are to descend on Letterkenny for the Oireachtas Rince Uladh 2013 / Ulster Irish Dancing Championships from 20th November until 24th November 2013.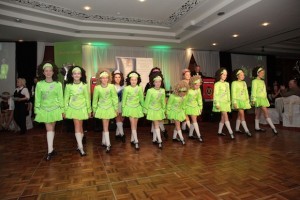 This event is being held in the Mount Errigal Hotel for five whole days in the form of high class competitive entertainment.
It is estimated that in excess of 14,000 people will attend the championships from all over Ulster and some bordering counties during this five-day major cultural event.
Irish dancing is becoming more popular than ever before and it is a mecca showcase for those young (4yrs – 21yrs) performing and competing in the traditional art of Irish dancing at national and world level and for the impassioned audience it attracts from all over the global Celtic community.
It adds a festival dimension to the gateway town as an out-of-season event and will benefit the neighbouring towns as well.
Letterkenny Town Mayor, Paschal Blake, said "It is an honour for Letterkenny to host the Ulster Dancing Championships once more in 2013. I extend a Céad Míle Fáilte to everyone who wishes to view and experience Irish Dancing at its ultimate best and to explore what the Ulster Dancing Championships event holds in store for the avid Irish dancing enthusiasts and local communities. Letterkenny has a great range of facilities to cater for everyone and I hope that everyone will enjoy their stay in the area".
Seamus Neely, County Manager said that he welcomes Oireachtas Rince Uladh back to Letterkenny for 2013 after Buncrana's successful hosting for 2011 and 2012. He also said Donegal County Council is fully aware of the cultural, social and economic benefits that an event such as Oireachtas Rince Uladh brings to the community of Letterkenny and County Donegal. He wishes the organisers and all concerned every success.
This is a Donegal County Development Board lead initiative, under the auspices of Donegal County Council, and is supported and funded by the Letterkenny Town Council.
Tags: