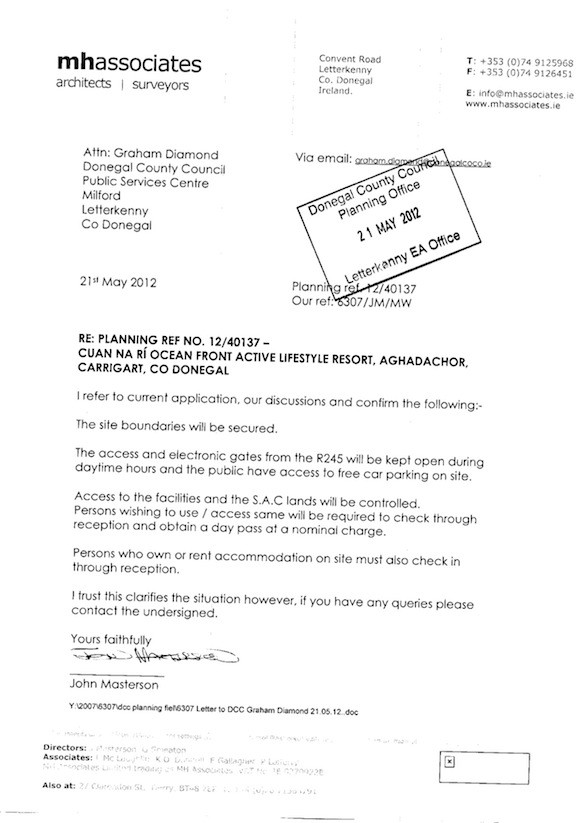 THIS is the letter which has infuriated residents of a Co Donegal village – confirmation of their worst fears that a local beach enjoyed by them for generations is to be privatised.
It was unearthed by local woman Frances McCarry who has been campaigning with others to save Aghadachor Beach, Carrigart.
T&G Developments has been working at the beach, constructing a holiday resort welcomed by all because of the jobs it will bring.
But with access to the beach now restricted, it's a step too far for many local people.
The letter from MH Associates (Architects) advises of the proposed access plan to the Cuan Na Ri development.
It clearly states there will be a fee for entering the beach – which will be accessed via a 'reception'.
"I am still waiting on official clarification if indeed the old Aughadahor Road Right of Way was ever extinguished," Frances told Donegal Daily.
"I cannot for the life of me understand why this is proving so difficult to answer.  Either the required legal procedures were carried out or they were not.  Due to the lack of response on this matter I suspect the old Aughadahor Road is indeed a public right of way and therefore should be reinstated immediately.
"We also believe that the shoreline has been interfered with so we, the Committee, would like to know which department will be taking enforcement action in connection with this matter," she said.
"We urgently require the reinstatement of our right of way so the community can again access their local beach and so home and land owners can again access their properties via the Aughadahor Road.
"Also we would remind you that planning permission was granted to properties in this area and the access road listed in their planning permission was the old Aughadahor Road.
The campaigners have set up a facebook page below.
https://www.facebook.com/pages/Save-Aughadahor-Beach/651618501535314?ref=ts&fref=ts
Tags: