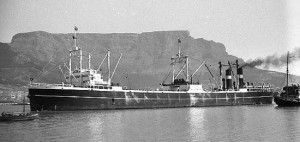 A dramatic new video has been released showing a WWII Shipwreck off Malin Head.
The S.S. Empire Heritage Steam Tanker was built in 1930 and transported oil, tanks and half tracks for the British.
It was torpedoed by a German submarine in 1944 and sank to the depths of the Atlantic just 15 miles North West of Malin Head.
113 people died when the tanker sank. It was on the way from New York to Liverpool.
Donegal Daily brought you pictures last month from underwater researchers.
Now clear footage has now emerged of the S.S Empire Heritage wreckage. The video shows tanks that the ship was transporting when it sank. Diver Rich Stevenson, who uploaded the video, said Donegal is "one of the best deep wreck diving sites in Europe."
The Malin seabed was filmed as part of a BBC programme Dive WWII: Our Secret History. The programme aired during the summer, and revealed various wrecks from WWII's war at sea – The Battle of the Atlantic.
See the video here:
Malin 2010-5D2-Sherman tanks from Rich Stevenson on Vimeo.
Tags: