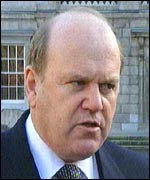 FINANCE Minister Michael Noonan shocked Dail Eireann last night during a debate on tax reliefs for home owners, by accusing Donegal builders of widespread fraud.
He said builders in Donegal are "night and day working in the black economy" during a debate at the Finance Committee.
Donegal Deputy Pearse Doherty was furious at the comment, accusing Mr Noonan of a cheap shot at the Gaoth Dobhair politician.