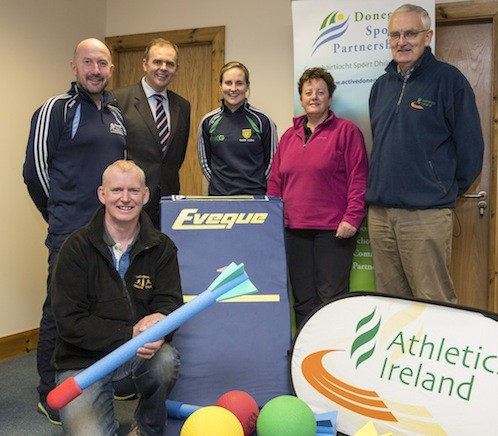 Introduced to Donegal by George Bunner MBE as part of a promotional road show many years ago the concept of running children's athletic events in indoor venues all across Donegal has been growing hugely over the last number of years with the development of a primary schools programme.
Donegal Sports Partnership with the support of Athletics Ireland and the Donegal Athletics Board have been driving the primary schools programme which is now in year 3 and features running, jumping and throwing events in a team format for children from third to sixth class.
Indoor venues in Clonmany, Castlefin, Dungloe, Letterkenny and Ballyshannon will host primary school events as regional events with the winners going forward to a county final which will be held in the Aura Leisure Centre, Letterkenny on Thursday 12th December starting at 11am.
The Donegal winners will also have an opportunity to go forward to national qualifying events ahead of national finals to be held in Athlone in 2014.
This concept of athletics has also been used by Donegal Sports Partnership to support special needs schools in Donegal with a dedicated project being delivered under the Sports Inclusion Disability Programme.
The 2012 Sports Capital programme which is coordinated by the Department of Transport Tourism and Sport provided finance to support the Sports Hall Athletics Programme in Donegal through a grant of €10,000.
This equipment which will support the increased demand on the programme and will be distributed to clubs and community groups across Donegal and will further strengthen community involvement by children in sport.
Further information on the programme from Donegal Sports Partnership, River Front House, Pearse Road, Letterkenny – info@activedonegal.com 074 9116078/9116079
Tags: