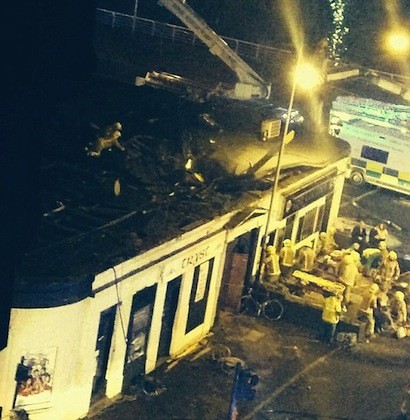 POLICE have confirmed that eight people have died and 32 injured in last night's helicopter crash in the centre of Glasgow.
They died in the incident where a police chopper smashed into The Clutha Bar, a well-known pub in Stockwell Street well-known to many people from here.
A sombre Alex Salmond, the country's First Minister said the deaths and injuries marked a 'black day for Glasgow and a black day for Scotland'.
St Andrew's Day celebrations in the city have been cancelled and the national flag is being flown at half-mast.
A recovery operation is continuing at the site.
There were three people on board the helicopter – two officers and a civilian pilot. They died in the crash.
Five people in the bar also died
Thirty-two people have been taken to local hospitals.
Around 250 people have attended a special mass at St Andrew's Cathedral in Glasgow this afternoon, where those affected by last night's events have been remembered and prayed for.
The BBC said congregation members included Glasgow City Council leader Gordon Matheson and Glasgow East MP Margaret Curran.
Archbishop of Glasgow Philip Tartaglia told those who attended: "We pray for those who have lost their lives, who are injured, the bereaved, and the emergency service and members of the public.
"We pray for our city of Glasgow, which is in mourning today."
Tags: