LATEST: Dozens have people have been injured after a police helicopter crashed into the roof of a busy pub in Glasgow City Centre.
People at the scene say there are people still trapped in the venue and emergency services have been dragging customers out of the premises.
There are reports of nine people being treated in hospital for serious injuries with other reports of at least three fatalities.
Scotland's First Minister Alex Salmond had tweeted that the country should prepare itself for fatalities.
The aircraft hit The Clutha on Stockwell Street, which faces onto the river Clyde.
The bar is very popular with Donegal people living and visiting the city.
Reports say around 200 people have been taken to a nearby Holiday Inn for treatment.
The emergency services have also been trying to get onto the roof to get access into the pub. Two police officers and a civilian pilot were in the chopper.
A picture posted on social media clearly shows it was a Police Helicopter, with a distinct logo on the sign.
The bar is popular with Celtic fans.
Grace MacLean who was inside the pub described the roof coming in.
"There was not a bang that I heard anyway, the roof gradually caved in," she told Sky News.
"There were a few jokes about the band bringing the house down and then there was this dust and I was choking on the dust.
"We ran outside and the roof was coming down more. I don't think the helicopter slammed into the roof."
Claire Morris, who lives near the Clutha bar, told BBC News: 'We heard this bang. We didn't really know what had happened and then we heard people coming out and screaming."
Labour MP Jim Murphy was driving nearby when he saw the aftermath.
His voice shaking with emotion, Mr Murphy told Sky News that the scene was "absolutely dreadful."
He had gone to help evacuate the injured and his shirt was covered in blood.
"Someone told me a helicopter crashed into the pub and as I was there everyone was working hard because we thought there might be an explosion," he said.
Another local MP Anas Sarwar urged anyone who was able to leave the pub to call loved ones to let them know they are ok.
Irishman Brendan Riordan, who was in the pub, told the BBC that there were many people injured.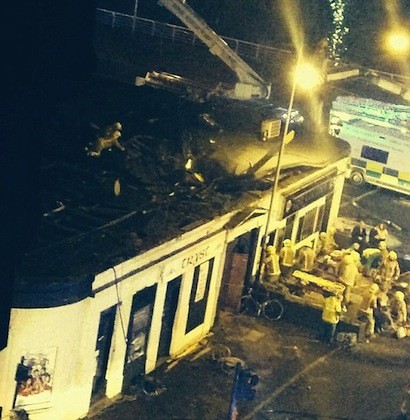 Tags: