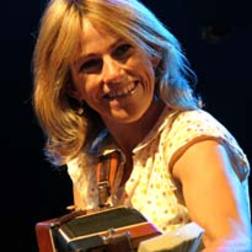 DONEGAL singer/songwriter Rory Gallagher is hoping for a bumper Christmas – and that a Christmas song he penned heads straight for No1.
The Kilcar man is unlikely to see snow anytime soon in Lanzarote where he is based.
But he is co-writer of 'Christmas Time Again' – which has just been released by Sharon Shannon.
"It is a lovely simple old fashioned Xmas tune with a Cajun swing," said Rory.
"I hope it does mighty! Keep an ear out for it on the Radio! ho ho ho."
Shannon, on a tour of Japan, is delighted with the song.
"At last, here's our Christmas song," she told fans on her Facebook page.
"I'm sooooooo proud of this. It's nice lively feel good track. Have a quick listen. . I can't wait for everyone to hear it. Please keep an ear out for it on the radio in the coming weeks and PLEASE send in requests for it to the radio stations. The gorgeous Wallis Bird is doing the savage vocal on it."
Tags: