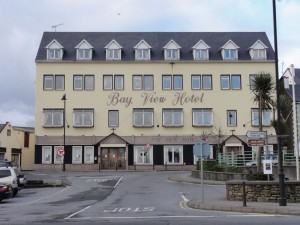 THE BAYVIEW Hotel is to re-open this Sunday – after a lawyer from Singapore decided to buy it…online!
Peter Gabriel flew into Co Donegal last weekend, walked the streets of Killybegs and introduced himself to some of the locals.
He had spotted the hotel for sale on a website and decided to buy it.
The property had been listed for sale at an auction for €400,000 but was later withdrawn after Mr Gabriel stepped in.
He's now considering spending a lot more time in the fishing town with his family.
Mr Gabriel says the hotel will have a 'soft opening' this Sunday with a more formal opening in the New Year.
The 3-star 40-bedroom hotel was constructed in 1994 to replace the previous hotel on the site which had stood there for 170 years.
The re-opening of the landmark hotel is a huge boost to the area after so many jobs were lost when it closed.