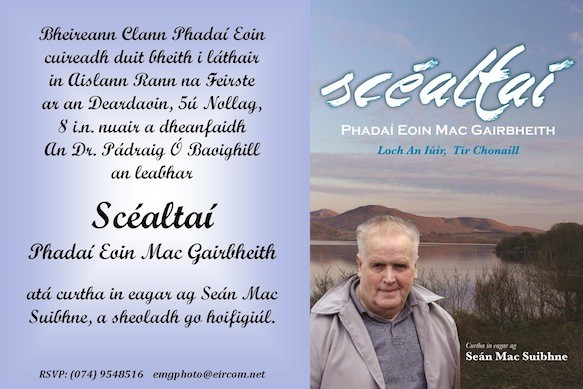 A book of Irish language stories by the late Paddy Mc Garvey of Loughanure, the first book from this particular Gaeltachta area since 1969, will be launched in Aislann Rann na Feirste this Thursday night, December 5th at 8 p.m.
Trí fichead alt a bhí i gcló ar An tUltach sna blianta (1990 -2003) atá sa chnuasach seo le Pádraig Mac Gairbheith (Padaí Eoin) as Gaeltacht Loch an Iúir i Rosa Thír Chonaill, an chéad leabhar as an Ghaeltacht seo ó tháinig an dara heagrán de Thiar i nGleann Ceo le Tadhg Ó Rabhartaigh ar an mhargadh i 1969.
Bhí dlúthbhaint ag Padaí Eoin le Niall Ó Dónaill (Niall Éilíse) a chuir in eagar an Foclóir Gaeilge – Béarla i 1977. Ba as Loch an Iúir an bheirt acu agus is cosúil gur spreag Niall Padaí Eoin dul i mbun scríbhneoireachta i dtús an lae.
Ina óige d'oibir Pádaí i siopaí Bhriainidh Dhonnchaidh i Rann na Feirste agus Mín Chormaic, bhí sé seal gearr ag obair in Albain agus deich mbliana fichead ina stát- sheirbhíseach leis an Roinn Leasa Sóisialaigh ar an Chlochán Liath. D'oibir sé ar feadh blianta fada gColáiste Mhuire Loch An Iúir mar reachtaire.
Thoisigh sé a scríobh do An tUltach sna caogaidí agus scríobh sé chomh maith do Amárach, Anois, Gaeltacht, Ireland's Own agus Ireland's Eye chomh maith le mórán clár a dhéanamh do RTE Raidió na Gaeltachta. Is cosúil fosta go raibh tionchar nach beag ag scríbhneoirí eile as ceantar Loch an Iúir ar an fhear óg seo, daoine mar Tadhg Ó Rabhartaigh, Fionn Mac Cumhaill, Niall Mac Suibhne, Pádraig Mac Giolla Bhríde, Frainc Mac Grianna, Iósaf Ó Searcaigh agus Briainidh Ó Beirn a bhíodh i dteagmháil le Padaí Eoin go minic.
Ba i stair a dhúiche ba mhó a bhí suim ag Pádraig Mac Gairbheith agus cuirfidh an pobal suim sa tseanchas áitiúil fá leithéidí Donnchadh Mór, Cassie na bhFlowers agus Mary Pheigí Taimí chomh maith le aistí spéisiúla staire ón pharóiste agus ar fud an chontae.
Ba chóir go mbeadh an leabhar seo ina chuidiú do neartú na Gaeilge i Loch an Iúir agus go gcuirfeadh sé le stór seanchais na Rosa atá i leabharthaí mar Na Glúnta Rosannach, Óglach na Rosann,
Ó Ghleann go Fánaid, Idir an Dá Ghaoth agus Rann na Feirste.
The book was edited by John Sweeney, Loughanure, a close friend of the Mc Garvey family who gave Paddy a commitment before his death in 2005, that his work would be published.
The book will be launched in Aislann Rann na Feirste by renowned author An Dr Pádraig Ó Baoighill of Rann na Feirste and Monaghan who spent much time in Paddy's company discussing folklore and history. There is an open invitation to the launch.
'Scéaltaí PhadaÍ Eoin Mac Gairbheith' is published by Coiscéim (www.coisceim.ie) and is available from all good Irish language book sellers and in local outlets in the Rosses and Gweedore areas.
Tags: