ANOTHER Donegal wind turbine has been smashed – by high winds!
A blade on a turbine at Corkermore wind farm has snapped clean off and embedded in the ground below.
Just a month ago the site was given the go-ahead to add four new turbines by An Bord Pleanala.
The site of the windfarm is nine kilometres north-east of Killybegs.
An appeal was lodged against Donegal County Council awarding permission on a number of grounds including that it didn't take correct note of public submissions, the impact of low level sound on human health as well as a potential negative impact on the environment, scenic beauty and tourism.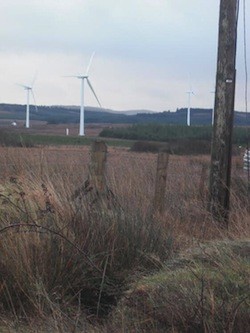 In its conclusion, An Bord Pleanala said the proposed development would not be likely to have any significant negative impacts on the environment in relation to the landscape, noise emissions, shadow flicker, slope stability, water quality or otherwise.
It concluded the proposed development would therefore be in keeping with proper planning and sustainable development of the area and can go ahead.
The latest turbine smashing incident comes after another one at Maas near Ardara collapsed in March.
On that occasion the owners of that site blamed high winds.
The incident at Corkermore follows a storm yesterday.
No-one has been injured in the incident.
Tags: