Letterkenny General Hospital has literally been 'flooded' with negative publicity in recent months.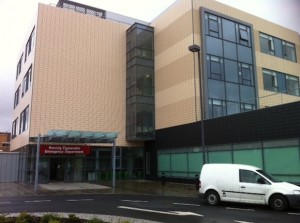 Since torrential rain engulfed up to 70% of the hospital in July, our county's main medical centre has taken a bashing.
We have soul-searched, asked how could a little bit of rain do something like this and we have looked for people to blame.
But the reality is that just a little more than four months after being on life support, our hospital is showing excellent signs of making a full recovery.
I saw this first hand when I was forced to attend the temporary accident and emergency unit on Saturday afternoon last.
Mine wasn't a life or death complaint.
And yet I was seen to promptly, courteously and in a manner which I can only describe as utterly professional.
I appreciate that other people may have different stories to tell.
But I can only speak from personal experience and say I could not find a fault with the treatment I received for my 24 hours at Letterkenny General Hospital.
I was treated to almost immediately in casualty and less than an hour later I found myself being taken to Surgical Two for overnight observation.
The next morning I was told I would be getting a CT scan and that morning I was whisked in a wheelchair to the mobile scanning unit.
I was kept fully informed of all that was happening to me and that a doctor would see me that afternoon to inform me about the results of my scan.
In between I received what I can only describe as first-class care and attention from domestic to nursing staff.
Don't get me wrong, I was delighted to be told that my scan was fine and that I could leave that evening.
But that was more because I promised three children that I would put up a Christmas tree that night.
If the truth be told I wouldn't have minded another restful night in such caring hands.
We wondered a few months back why so many people literally waded in off the streets to help clear the water from the corridors of our hospital.
I know the reason now.
It is because it is OUR hospital, run by OUR people, looking after OUR community.
And we should all be proud of the job they are doing there.
SM.
Tags: