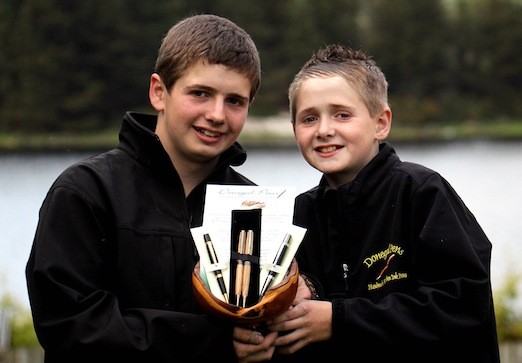 It's lights, camera, action for Donegal Pens brothers Rónán and Conor Mc Garvey later today (Tuesday) when they appear on the RTE2 'Two Tube' programme.
The Mc Garvey brothers from Loughanure will appear on the popular youth-aimed programme between 5.30 and 6pm to chat about their Dragons Den experience earlier this year.
The boys emerged from the Junior Dragons Den series with the most money out of the twenty participants.
Successful Donegal businesswoman Ramona Nicholas of the Cara Pharmacy group awarded them a €2,000 bursary, while businessman Peter Casey placed a €2,000 order with them on the show. Ramona will also appear on the show with them.
The boys will speak on the live show about how much their participation in Dragons Den helped their business and how they'd encourage any budding young entrepreneurs to apply for the 2014 series.
Despite no assistance from state agencies, Donegal Pens has gone from strength to strength to become a successful business run by two teenage schoolboys. Their enquiry about funding from the Donegal Enterprise Board was shot down because they were told they are "too young".
They are currently "flat out" dealing with Christmas orders and shipping pens worldwide. Orders for the Christmas season are recommended to be with them by December 15th through their website www.donegalpens.com
"It's been very busy in recent weeks and we're doing our best to fulfil all the Christmas orders. The latest recommended shipping date for Ireland is December 20th, UK and Europe is 19th, and the USA is the 11th, but we'll continue to ship up until Monday, 23rd December," said Conor.
Tags: